Today, the supposedly nonpartisan Commission on Presidential Debates (CPD) announced the formats for the three presidential and one vice presidential general election debates it will sponsor this fall.
Each debate will be 90 minutes in duration, from 9:00 to 10:30 p.m. Eastern time without commercial breaks. Each debate will have one moderator. The four debates are:
First presidential debate (September 26, 2016, Hofstra University, Hempstead, NY):

The debate will be divided into six time segments of approximately 15 minutes each on major topics to be selected by the moderator and announced at least one week before the debate. The moderator will open each segment with a question, after which each candidate will have two minutes to respond.

Candidates will then have an opportunity to respond to each other.

The moderator will use the balance of the time in the segment for a deeper discussion of the topic.
Vice presidential debate (October 4, 2016, Longwood University, Farmville, VA)
Second presidential debate (October 9, 2016, Washington University in St. Louis, St. Louis, MO): The second presidential debate will take the form of

a town meeting

, in which half of the questions will be posed directly by citizen participants and the other half will be posed by the moderator based on topics of broad public interest as reflected in social media and other sources. The candidates will have two minutes to respond and there will be an additional minute for the moderator to facilitate further discussion. The town meeting participants will be uncommitted voters selected by the Gallup Organization.

Third presidential debate (October 19, 2016, University of Nevada-Las Vegas, Las Vegas, NV):

The format for the debate will be identical to the first presidential debate.
The CPD's announcement puts to rest InfoWars' Alex Jones' theatrical jumping-to-conclusion about a forum moderated by NBC's Matt Lauer on September 7, in which Lauer would separately interview Hillary Clinton and Donald Trump who will not be on the stage at the same time, but will instead go back to back. Beginning at the 7:20 mark in the video below, Jones said:
"I knew that Matt Lauer was doing this so-called debate and I predicted on air that they were going to somehow cancel the debate…. [T]his is…an exercise in brainwashing…. They're [Hillary and Trump] going to be on different stages back-t0-back, to control it in case Trump says something they don't want said. This is unbelievable! …This is how rigged this is. They've already installed leaders in Europe — the globalists have already stolen all these elections. They've got Homeland Security taking over the election [in the U.S.]. They're censoring the press…. This is insane."
As reported by Kaitlan Collins for The Daily Caller yesterday, the Sept. 7 Commander-in-Chief Forum in New York City will be a one-hour forum where Trump and Clinton will answer questions about national security, military affairs and veterans issues in front of an audience mainly made up of members of the military.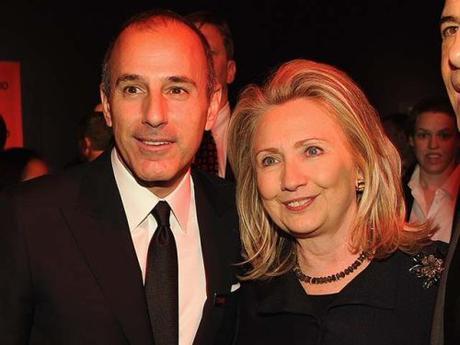 Matt Lauer & Hillary Clinton, April 24, 2012 (Photo by Larry Busacca/Getty Images)
Collins points out that "It's worth noting that Lauer is listed as a 'notable past member' on the Clinton Global Initiative's website — along with Anderson Cooper and Katie Couric."
The Clinton Global Initiative is one of the programs of the corrupt Clinton Foundation.
Given Lauer's membership in the Clinton Global Initiative, his objectivity as a forum moderator should be questioned — as should a myriad of other journalists and media outlets. See:
News media are big donors to Hillary's corrupt Clinton Foundation

NYT openly advocates abandoning objectivity in reporting on Trump
NYT calls on Google to hide Hillary Clinton's failing health
Media's Orwellian censorship on Hillary Clinton's health: HuffPo deletes article; bans author

Dr. Drew's TV show cancelled, 9 days after he raised concerns about Hillary Clinton's health

Never investigating Obama, Washington Post unleashes army of 20 to probe 'every facet' of Trump's life

CNN anchor Chris Cuomo admits media are Hillary Clinton's bitch

Get ready for a $1M army of social media trolls for Hillary

Hillary Clinton's thugs threaten to shut down Breitbart and theaters showing 'Hillary's America'
H/t FOTM's truckjunkie
~Eowyn