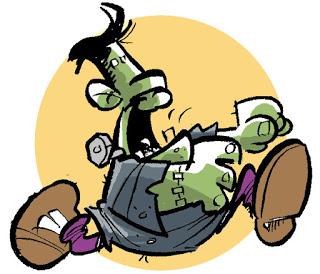 Well we surely are moving on a pace as we crash into week three of my new comic strip,
Tales from Toonsville,
and how I go about creating a comic submission for the big five US syndicates.
This week I had a blast. Although I had already written my required 30 strips, my mind started creating more, so many in fact that some of the original 30 have now been dropped and replaced: four such samples of the
'newbies'
are laid out below.
Not that there's anything wrong with the dropped strips---they can be used again--- it's just that for what I wanted to say about the comic--- its direction and writing in the initial package--- these gags fitted the bill slightly better. And if there is one thing you must do when submitting work anywhere, it's only send your absolute best.
So here we go, four more strips with their commentary. Hope you enjoy them and will wish to keep on coming back.
Stay tooned.

I know, I know, you're probably thinking 'Golfing cartoons? In this day and age! Aren't they those things that the old cartoonists did? Well yes, you are right and they did. But this new idea popped into my head. I thought of  taking the cartoon cliché and dropping it in a modern strip. It's almost like a 'How to draw cartoons the old way' type of an idea, or  'Cartoonist 101'. And anyway, Gary Larson did desert island gags in the Far Side. So if it's good enough for him then who am I to complain?

I know in my original post I said that there would be regular characters that would be used from time to time, and I even stated the four I already had. But I also said that as a proposed new comic develops it tends to morph into something a little different and Caruthers J Caruthers is a point in case. I love the old Victorian explorer tales plus the Tarzan, tales of the lost world, the endless jungle sagas and the science and experimentation and Gothic horror; plus the new Steam Punk stories. Caruthers J Caruthers just seemed like the ideal vehicle to blend History to Victorian tales, to Steam Punk, and have a laugh along the way

All I can say to this is the theme tune to the Dam-busters was ringing around my head, and being the person I am, duck images began to mix in with them and..and..well, this happened!

And finally (well, for this week anyway), here's another one of those, what-would-happen-if-a-certain-type-of-brain-was-put-into-the-Frankenstein-monster's-head gag.

My next blog post

will be on Wednesday and it's a behind the scenes look at the early stages of a new cartoon print, poster and the calendar project I'm working on. And of course next Friday will be week IV of my comic strip submission series.


I sincerely hope you enjoyed this post. If you did then please share it like a demented sharing person and keep on coming back for more of the same, and a whole lot besides.