"Trash Days" tells a lot of little stories of the gangster duo Crash and Burn and is one of the most interesting German comics of 2015. Because the book shows many genres and drawing styles it is not only a great and many-sided work for enthusiasts but also a good first step for people who want to start reading comics. 
In 2011 the Chilean author Christian Fernández Larrere wrote together with drawing artist Bastian Brauning the mini-comic "Crash and Burn" that was published in the book "Masa Sicotrónica" and with which the two antiheroes Crash and Burn saw the light of day. The contract killers stand out due to their black humor and their love to rockabilly and rock n' roll wherewith the characters were inspired by the cinema noir of the 40s or rather by the old gangster movies from the USA, France and Japan.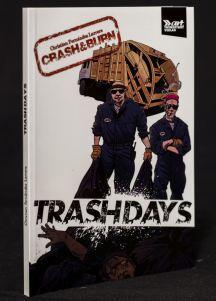 Therefor the Graphic Novel "Trash Days" can be seen as a sequel of the adventures of Crash and Burn that show in separate chapters the jobs of the two of them on different places of the world. Every story is self-contained and has a different narrative and drawing style as the one before. Because the book is a compilation that contains a lot of different authors and artists.
And in my opinion this is what makes the book so special. From anime style to a surrealistic, experimental style you can see various art genres that the comic world offers. Indeed the stories have a lot of violence in them but to be honest – which comic doesn't? And like their forerunners of cinema history like Al Capone, Dillinger, Barrow or Bonnie and Clyde the protagonists also have lovable features that make them multi-dimensional and lasting comic characters.
In addition the intro of the book was written by no one less than comic legend Enrique Alcatena who already worked for the big publishers DC and Marvel. He liked the book and who are we to doubt the master? But see for yourselves: The Graphic Novel is now available on Amazon or you can buy it from the author directly.
For more information visit: http://issuu.com/christianrenefernandezlarrere3/docs
Click to view slideshow.