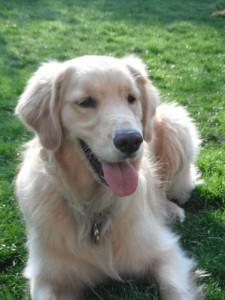 Just days after the Sandy Hook Elementary School shootings, a local 4-year-old golden retriever went to Newtown, Conn., to comfort grief-stricken schoolchildren and adults.
Shami, a comfort dog, belongs to St. John Lutheran Church in west suburban Darien.
"A woman came up to me (in Newtown), started to hug me and told me that the dogs were the only reason her child wanted to go to school," said volunteer dog handler Toni Bazon-Forsberg of Darien. "I think about that and it makes me cry."
Shami was one of 10 comfort dogs in Newtown. The dogs, part of the Lutheran Church Charities K-9 Comfort Dog program, come from churches around the country and are often deployed to help people cope after tragedies.
The dogs also provide therapy to those in nursing homes, hospitals and schools with special-needs students. It takes about 10 months and costs thousands of dollars to train the dogs, church officials said.
Bazon-Forsberg, 52, said the dogs were present at memorial services, schools and even at counseling facilities in Newtown.
"People connected with them right away," said Bazon-Forsberg. "They didn't want the dogs to leave."
The dogs just recently left Newtown, but some may be relocated there, according to Lutheran Church Charities. Shami spent about 17 days during two separate trips to Newtown. She is currently resting at Bazon-Forsberg's home.
Bazon-Forsberg's daughter, Jolene, 29, went back to Newtown with another comfort dog, Addie, about a month after the shootings Dec. 14. Jolene said she took Addie to visit classrooms at the new Sandy Hook school.
"The teachers would request the dogs," said Jolene. "The dogs would lift their spirits up right away."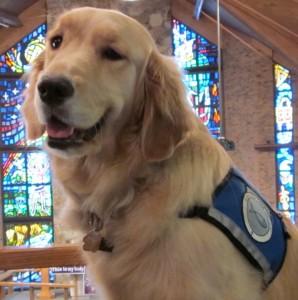 Dave Bottorff, a pastor at the Darien church, takes Shami to nursing homes and assisted-living facilities in the area.
"There is a group of women who often sit outside to greet Shami," said Bottorff, 60. "Shami is the highlight of the day and week for some of them."
He said Shami also makes for a good conversation piece because the dog often reminds people of an old pet or even a family member.
Jolene said special-needs students benefit from comfort dogs. She remembers one occasion when Shami helped a child develop communication skills.
"There is one little boy who rarely talks, but one day he started to talk to Shami," said Jolene. "It was really incredible."
~ Courtesy of The Chicago Tribune
Tags: comfort dogs, dogs helping children, Sandy Hook, tragedy dog