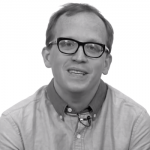 Chris Gethard
Following the Isla Vista killing spree on May 23rd, 2014, thousands of women used the Twitter hashtag "#YesAllWomen" to share stories of experiences and incidents of sexual harassment, abuse and inequality of women. Many men contributed to the topic as well, demonstrating support for women and deploring episodes of inequality. Comedian Chris Gethard was among them, joining the conversation by taking to his Manhattan public access show's blog to offer important pieces of advice to young males.
In the blog post entitled "Overcome Your Programming and Become a Better Man" Gethard recalled feeling angry, sad and lost as a teenager in the same way the perpetrators of mass killings seem to be on online message boards and blog posts. He remembered "thinking girls didn't like [him]" and that "popular kids had a world to themselves that [he] wasn't allowed to enter". But, as someone who recalls those feelings, Gethard made it clear that no sympathy should be offered towards murderers' subsequent actions nor should any young person look to those people as "heroes" or "martyrs".
To young people who feel lost or excluded, Gethard wrote:
I want you to know that sometimes you are right and that all of those feelings are okay. Get angry if you have to, get sad when you need to, and know that it's okay to feel all those feelings. But remember a couple simple things:

1. The world doesn't owe you anything.

2. You can't change the world, but you can change yourself. And by changing yourself, you can change your world.
Gethard encouraged readers to look towards themselves to change the things that made them unhappy without assuming that women, especially, or any other external causes, are the sources of their pains.
Gethard recently further emphasized his message in a NowThis News rant video, where he (in a very obviously comedic tone) warned, "Know that if you really are someone who feels scorned by women, participating in the movement of villainizing women will only lead to a vagina-free life…" He further mused that while the possibility of "living like Jay-Z" may not be possible, viewers would come to find happiness in normalcy. He amusingly promised that all they would want or need would be "an HDTV and a lady who thinks [they're] reasonably cool."
Gethard essentially assumed the important responsibility prominent male figures have, especially given the climate of today's gender disparity, to emphasize that women should not be treated as 'enemies' or 'originators of evil' by men. And, as a comedian, naturally did so in a genuine and humorous nature.
Despite being widely well-received and applauded, Gethard's message also inevitably provoked negative backlash. This came most prominently and perhaps most bizarrely by a YouTube user by the handle "ramzpaul". He is a vlogger who associates with online male-empowerment movements in the "Manosphere", like "The Red Pill". In the video below, entitled "RAMZPAUL Responds to Chris Gethard", the user deplores Gethard's rant video. He (perhaps unintentionally) mocks Gethard's last name and belittles his ideas, which he seems to think encourages others to only aspire to an "HD television" and "a girl that somewhat likes you".
Although this YouTube user's rant overlooked the comedian's much publicized personal philosophy, which encourages his fans to seek out joy and love, and to pursue their dreams without fear of failure, it most ironically affirms a similar message. In the video, RamZ explicitly told his viewers to "follow [their] passions", but he unfortunately did so by the endorsement of misogynistic, underground Internet communities which promote male dominance over women. Furthermore, he was not alone. The comments on both the original and response videos not echoed the women-hating collective with even greater intensity and lack of rationale.
Gethard remained calm, gracious and frank in taking the "same courtesy" the user took by responding to his video. He, of course, at times takes a witty approach to his well-woven tirade but more importantly, he continually reiterates feeling compassion for those, like RamZ, experiencing anger and sadness. Gethard's argument encompasses the idea that being "mean and anger-driven" towards women is unnecessary, ineffective – and principally, it is wrong.
The importance of this exchange is dire. The ideology Chris Gethard propagates through his blog post, video rant and vlog response is a beautifully spoken testament to the possibility of universally and fundamentally understanding feminism. This New York comedian's outward advocacy is urgently needed, especially in an area of the entertainment business that is so often criticized for being largely represented by white males and disregarding women. One comedian's response to a blissfully ignorant YouTube user is actually a hopeful indication of the future's response to the population of people who, indeed, fail to understand feminism.
Originally posted on PopWrapped.com