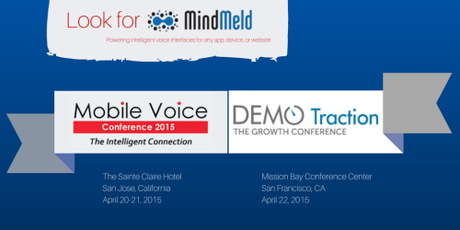 Expect Labs will be present at two great industry events this upcoming week: the Mobile Voice Conference in San Jose and DEMO Traction in San Francisco. If you're planning to attend either of these events, come say hi! Here's the low-down:
Mobile Voice Conference 
April 20-21, 2015
The Sainte Claire Hotel
San Jose, California

Monday from 4:15-5:30pm, check out Track 1 ("Mobile apps: Creativity required") to hear Expect Labs' CEO Tim Tuttle speak on the convergence of mobile, AI, and voice technologies. Tuesday from 3:30-4:15pm, you'll also want to make sure to catch Track 1 ("Talking to a computer: A deeper look"), because Expect Labs' Director of Research Marsal Gavaldà will be giving a talk on the societal implications of automatic speech recognition and keeping the technology equitable for everyone (including children, seniors, and accented speakers).
DEMO Traction
April 22, 2015
Mission Bay Conference Center
San Francisco, California

CEO Tim Tuttle will be giving a demo of MindMeld in the Information Technology group (1:30 - 2:20 PM), and Expect Labs will have a booth in the Pavilion. Wish us luck in the competition!

Follow @expectlabs and @getmindmeld for updates!