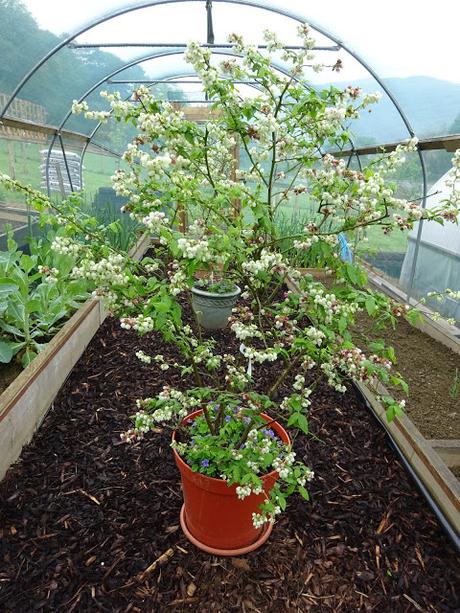 It's about time I let you have a proper peek inside the Net Tunnel.
In the last couple of weeks the central area has had masses of bark chippings poured in over a layer of membrane in a bid to keep weeds out as much as possible, and the last couple of beds have been filled with sifted soil, compost and some 6X fertiliser.  The tunnel has been in use since it was first covered in net but has never been fully productive as the beds on the righthand side were waiting to be topped up and the middle was a bit of a dumping ground.
As you can see the Blueberry bushes are now stood there and are currently a mass of flowers.  Eventually there will be another raised bed in the center ... I have my eyes on something in Lovely Hubby's shed that will make a great deep raised bed for depth loving vegetables   ;-)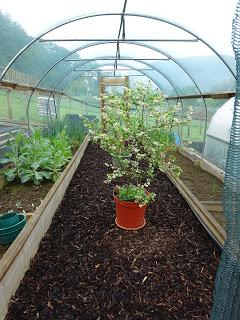 It's nice to be welcomed in with flowers  :-)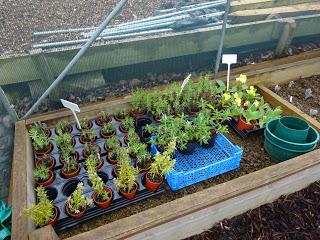 On the left as you step in th front doors are some over-wintered Rosemarys and Lavenders.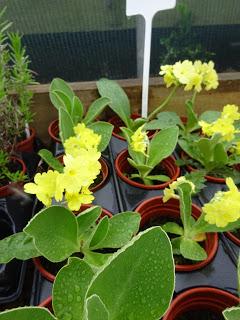 Next to them some Primula Auriculas that I separated out from a single pot that was bought last Spring at the garden centre, on one of mine and Mum's lunches out.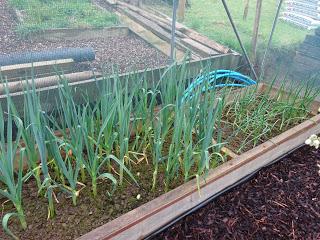 Further along past the triffid-like cabbages, are the Leeks.  They are doing really well in here and are the best and quickest growing Leeks I have ever had, to the right of them are some onions.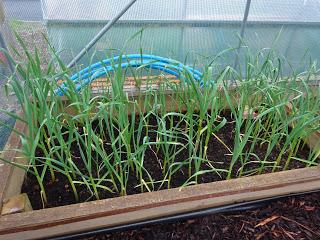 Opposite is the Garlic bed, there are lots of lovely healthy garlic plants in there that should keep us going for the next year.  We are currently almost coming to the end of eating last years crop, we have about enough for the next month or so hanging behind the kitchen door, so these could be available just in time.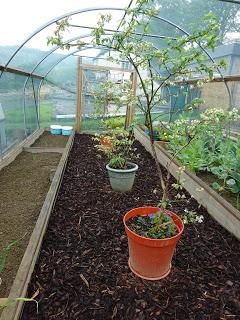 This is what it looks like looking back the other way,  the empty beds are now on the left soon they will be filled with the seedlings from the polytunnel, lettuces of every description, spring onions, radishes, rocket and other tender crops that I don't want to risk on the hillside.
And that's the idea of the net tunnel, to be able to have more crops growing outside of the polytunnel, but to be able to protect tender salad crops from the ravages of rabbit attack, which was at an alarming level last year.   It also diffuses the wind and is a degree warmer than outside the netting.  It means plants are 'almost outside' and can benefit from the regular rain, and slightly less regularly the sunshine will be diffused so things don't become as parched and scorched as they would be outside.  
The idea seems to be catching on around these parts, we've spotted another tunnel that used to be plastic and is now net covered, and a few people have asked us for the details of where we bought the netting etc.  
Just in case you want to know ... we got it from First Tunnels the same folk that we bought the polytunnel off,  the framework for the netting is our old polytunnel frame that we also bought from there.  There is a link to them way down on the sidebar, under the photograph of the henhouse.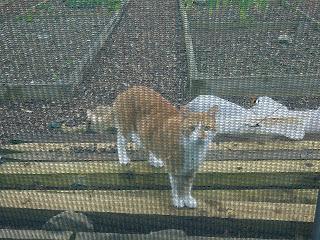 Someone was keeping an eye on me while I was taking these photos!!
Sue xx