I have managed to get myself addicted to ColourPop Makeup. It is pretty easy to do given that everything is generally $5, the shadows are the most incredible cream (sort of) to powder formulas ever, and the Lippie Stix wear practically forever. Here is a mini haul of four shadows, two lippie stix, and a lip pencil. My new fav taupe is in here in the shade Party Time.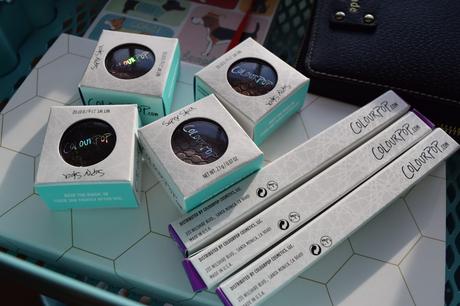 ColourPop shadows have a slight cream feel to them, and the company recommends applying them with your fingers. Patting them on leaves a ton of pigment. I actually like to use a sponge applicator for better control. My favorite for this is the Make Up For Ever Sponge Applicator Brush. Best of all they are $5 each. Amazing! Nowhere else will you get a shadow of this high quality and pigment for that price.
Starting in the upper left corner and going clockwise, this particular group of shadows has the shades Party Time (a mattte mauve taupe), Stereo (a sparkling metallic copper with redish/purplish undertones-hard to describe and hard to accurately photograph), Plaid (a matte deep green/gray with tiny copper and gold specks-also hard to describe and photograph), and Mixed Tape (a shimmery pearlized light mauve taupe).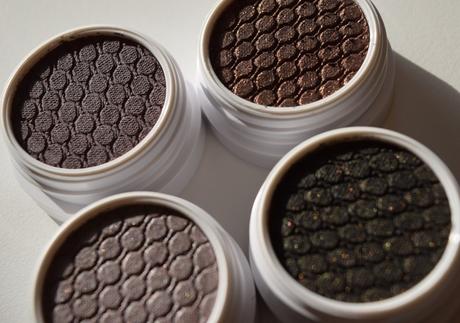 Swatches from left to right are Mixed Tape, Party Time, Stereo, and Plaid. I don't know why ColourPop lists Plaid as a matte. It clearly has metallic specks in it and it shimmers a fair amount, although not to the level of a pearlized or metallic shade.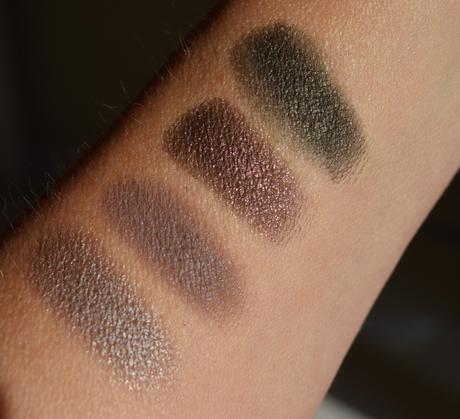 Here is another look in more direct light. Swatches from left to right are Mixed Tape, Party Time, Plaid, and Stereo.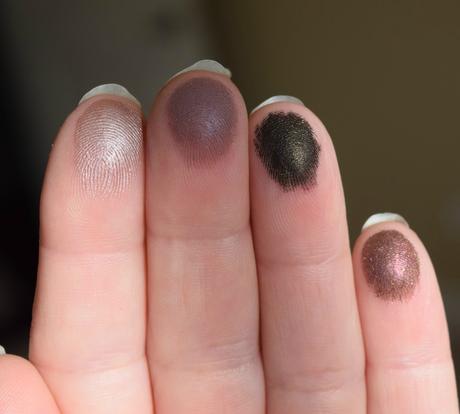 For the lips I got a ColourPop lippie stix and pencil in Dazed (a berry matte lipstick) and a lippie stix in Tiger (a sheer dark berry shade that comes out much lighter looking on the skin). Tiger is on the left and Dazed on the right. These lip sticks will wear through an entire meal and more. They are amazing.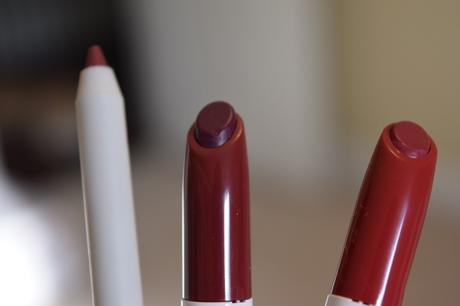 Swatches show how a sheer color comes out much lighter when used. For how dark Tiger looks in the tube it comes out fairly light. It is the swatch on the left. I adore the shade. Dazed is my other new fav and it is on the right with the pencil swatched as well.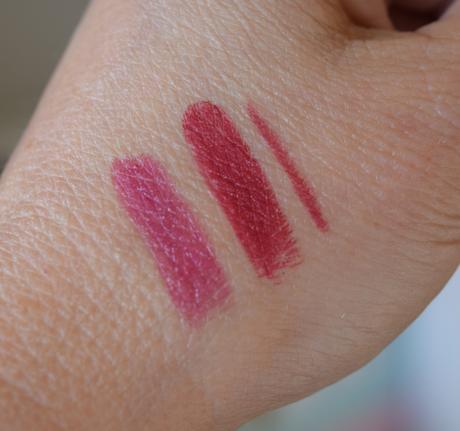 Here is my daily favorite eye look using Mixed Tape and Party Time. I swear I could wear nothing but taupes and be happy forever. I'm wearing Dazed on my lips.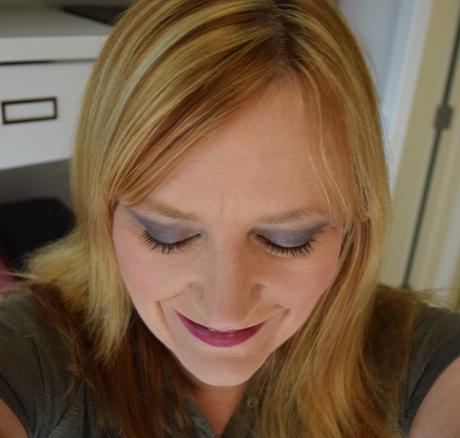 The shades work pretty well with my glasses too, which I am wearing more and more these days instead of my contacts.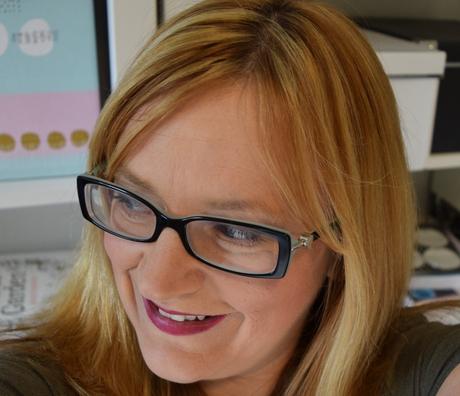 I don't know why it took me so long to get around to trying ColourPop given that everyone raves about them. Well, now I'm hooked! I have since bought a ton more. I just need to get around to swatching them. Working on that!