I have had the pleasure of knowing Healing Harvest founder, Kathryn Van Zwieten for the past 4 years. During this time I have seen first hand the awesome transformation and healing of raw foods upon the body.  You can look for Kathryn's healing testimony forthcoming on David Wolfe's TV Show/Nutribullet Infomercial.  She is an 11 year homeschooling veteran and blessed Momma of 5 who is also developing a certification course in raw nutrition/health education and hosts regular live events regarding nutrition. 
While coloring eggs for Easter may be a debatable topic, I'd like to draw your attention to using foods from your own kitchen which are safe and natural, verses store bought synthetic dyes.        
In Coloring Easter Eggs Naturally, author Kathryn Van Zwieten walks the reader through a variety of fruits, vegetables, spices, superfoods and liquids that can be used as dyes.  Through thorough explanations and colorful pictures it is easy for anyone to confidently incorporate natural foods into this tradition.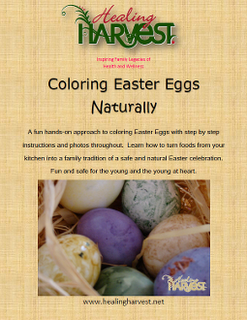 As a bonus, this ebook also includes information about eggs - a diagram of their parts, healthiest type to consume and how to cook them.  
Dare I say that you can realistically use this as a fun, hands-on mini-unit study too!
I encourage those of you looking for a healthy alternative to make beautiful, speckled, marbled and vibrant eggs to check out this ebook!
Until 3/31/2012, purchase this ebook at $1 off by entering discount code:  HOMESCHOOL at the checkout.Sign up for Healing Harvest's free e-newsletter at http://www.healingharvest.net/ and follow on Facebook too!

I received a copy of this ebook free of charge in exchange for an honest review.


This post written and property of Homeschool Circus and can be found at: www.upatdawnreadytowork.blogspot.com . If you are reading this from a source other than www.upatdawnreadytowork.blogspot.com you are reading a scraped copy!