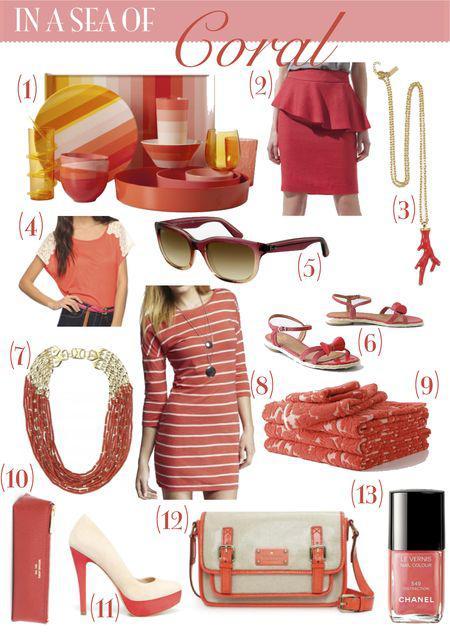 I find myself leaning towards coral more during the spring than any other time of year.  It's the perfect bridge from time Valentine's Day bright red to Easter blush pink.  Following with our spring Colorblocks (see the others here and here).  Here are a few coral goodies I'm loving right now.
(1) Coral Stripe Outdoor Tablewear.  At Target.  $10-20.
(2) Pencil Skirt with Frill.  By ZARA.  $80.
(3) Seal Coral Necklace.  By Lilly Pulitzer.  $48.
(4) Embroidered Shourlder Tee.  By Forever 21.  $15.
(5) Ray-Ban Sunglasses.  By Ray-Ban.  $150.
(6) Glossed Bow Sandals.  By Anthropologie.  $128.
(7) Campari Necklace.  By Stella & Dot.  $128.
(8) Striped Drop Shoulder Knit Dress.  By Express.  $50.
(9) Perpetual Bloom Towels.  By Anthropologie.  $8-36.
(10) Michael Kors Block Pencil Case.  By Michael Kors.  $58.
(11) Two Tone Platform Court Shoe.  By ZARA.  $90.
(12) Horseshoe Cove Scout.  By Kate Spade.  $278.
(13) Le Vernis.  By Chanel.  Shown in Distraction.  $26.