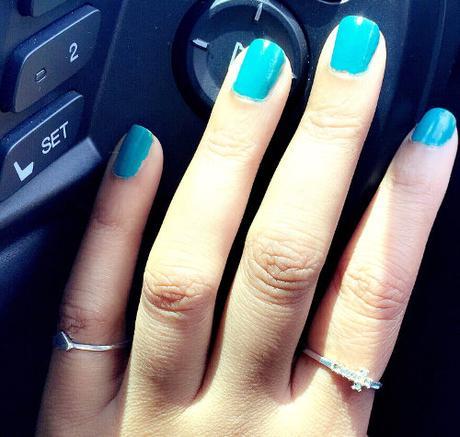 Well, as usual, I couldn't stop at one! This is Tattle Teal from Milani Cosmetics latest color statement nail polish collection.  It is a gorgeous, tropical teal green. It reminds me of a color you would find throughout the Caribbean islands. It's has big color and big personality too!
So as I mentioned in my last nail polish post, the Color Statement Collection nail polish does not last very long. However!! The price is remarkable (only $3.99). And the colors available are amazing. Because of that, I don't take too much off for the lack of long wear. I usually change my manicure weekly anyway.
A photo posted by ‼️girlratesworld‼️ (@girlratesworld) on Apr 23, 2015 at 2:17pm PDT
This is a pic I posted on instagram as I cruised and admired my mani for the week.  Be sure to follow me to see all my weekly manicure picks!!! I usually post tons of 'as they happen' moments there with beauty, fashion and more.
Once again, Milani Color Statement nail polishes are available in a spectrum of gorgeous colors. They also come in a variety of different finishes – cream, sheer and metallic. There are 37 nail polish shades in total!!!.
Hey! Don't forget to follow GirlRatesWorld on instagram, youtube and facebook. New posts are uploaded weekly and I wouldn't want you to miss what's next. Until next time, MUAH!!!