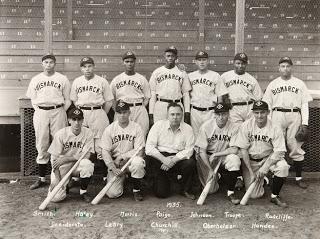 I've always been fascinated by oldtime baseball, and recently I acquired a new book by Tom Dunkel called "Color Blind: The Forgotten Team That Broke Baseball's Color Line."
It is the story of a team from Bismarck, North Dakota that played with white and black players together about a dozen years before MLB disbanded the color barrier in 1947. Like the title suggests, it is a largely forgotten semi-pro team, and I had no idea who they were until I started reading the book.
They were a "town ball" team, who played games against other semi-pro teams, and were put together by a car dealer from Bismarck named Neil Churchill. He brought many Negro League stars to North Dakota in the early 1930s, at the height of the depression. And they included some very famous names: Satchel Paige, Ted "Double Duty" Radcliffe, Quincy Troupe, and Hilton Smith. And in a region that overwhelming white, they certainly stood out among the folks.
The Bismarck team became a powerhouse, and regularly thrashed opponents, and the height of their glory was winning a national semi-pro tournament in Wichita, Kansas in 1935. Of the 32 teams that competed, the Bismarck club was the only one that featured an integrated team. (Unfortunately, it didn't last for Bismarck, as by the end of the decade, the team had disbanded, and were largely only remembered by those who saw them play.)
"Color Blind" examines that team, through both the best Negro League and white players on the Bismarck club. It's portrait of team that got along well, in a society where conflict between black and white was more the norm. It is a baseball story, but also of a time where baseball meant so much to people of a region that was going through some very bleak times.
Churchill may have been something of a visionary, but making money was still his priority. "Color Blind" takes a fascinating look at the world of independent baseball, and some of its colorful characters.
It's a shame this team is largely forgotten. (The above picture is actually the only team picture that still exists, and there is very little in terms of memorabilia of the Bismarck team still known to be around.)  The book also shows sadly that some of baseball's greatest players never got a chance to play in the big leagues, but were able to play together with other white players at a time when that was largely thought of as impossible, and play well enough to win a title.
"Color Blind" is a fascinating and unique story. A dozen years before Jackie Robinson integrated MLB, there was the Bismarck team. It's a story worth hearing, and author Tom Dunkel has done a terrific job in doing just that.