Want to take admission into a good engineering college ? Everybody wants to go in an excellent college which provides quality education , job placements ,practical knowledge , creative freedom and more.
Students who have passed H.S.C. might be thinking about getting into some college right now. You might be wondering into which stream to opt for in these days. Don't worry.
Some creative people built up a college portal which provides accurate research material for admission in colleges.There's one fantastic site working just for you ! That's Collegedunia.com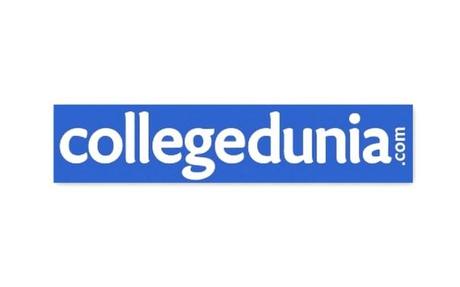 Parents who want to enroll their kids in B.TECH-COMPUTER SCIENCE in various colleges can go to this site for comparing colleges by clicking HERE
The best feature about this site is that they provide sufficient information about everything from fees , academic duration , location , photos of some colleges , and many more things.
Do you think that's not sufficient ?
Well there are more stuff for you . The best feature is that they provide ratings for each college so you can choose colleges of your own choice based on the ratings given .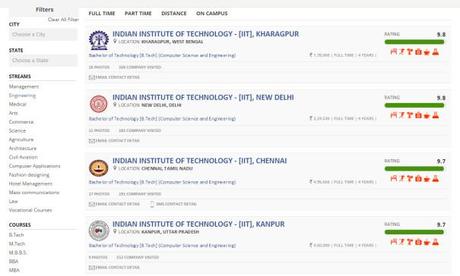 If you want more info about a particular college, simply click on the college name and read more information about it .
They also provide various options to choose like part-time , full-time , distance education , on campus in search results.
Besides you can search as per your convenience by entering state and city name in the sidebar provided.
Here are some of the links for B.Tech colleges in India :
Indian Institute of Technology (IIT), Kharagpur : HERE
PUNJAB ENGINEERING COLLEGE UNIVERSITY OF TECHNOLOGY - [PEC], CHANDIGARH : HERE
NETAJI SUBHAS INSTITUTE OF TECHNOLOGY - [NSIT], NEW DELHI : HERE
INDIAN INSTITUTE OF TECHNOLOGY - [IIT], NEW DELHI : HERE
INDIAN INSTITUTE OF TECHNOLOGY - [IIT], CHENNAI : HERE
DR BR AMBEDKAR NATIONAL INSTITUTE OF TECHNOLOGY - [NITJ], JALANDHAR : HERE
Suddenly choosing colleges is easy right ? That's what collegedunia.com provides their service with.
This is a sponsored post. The owners of collegedunia.com and the colleges mentioned in the images or in this post anywhere are owners of their respective logos . We, Configcrazy Team don't intend to claim any rights for the contents listed above.