Hello!
I hope you're all having a lovely summer and aren't sweating it out in the heat too much. Maybe you've been on a nice beach holiday? Climate change: not a Chinese hoax (sorry, Trump). The past few months have been hectic. Here's what's been happening - in life and work - since my last update:
AMPAS Film Librarians' Conference
In May, thanks to a travel grant from the Academy of Motion Pictures Arts and Sciences, I travelled to Los Angeles to present at the Documenting Cinema: Film Librarians' Conference. The event brought together archivists, librarians, and curators from around the world, to talk about working with cinema-related collections. I was proud to represent the National Science and Media Museum in Bradford, UK, by speaking about the assets and challenges of caring for the Daily Herald Archive.
The DHA is the museum's largest photography collection. Comprised of approximately 2 million prints, 100,000 glass negatives, and day books spanning the 1930s and '40s, this archive is a treasure trove of mid-20th century history. It's a great example of a newspaper picture library and it's often utilised by researchers. But the sheer scale of the collection, coupled with the small team who cares for it, has prevented the collection from reaching its full potential in terms of access, monetisation, and preservation.
Currently, we are putting into motion long-term plans to make sure this important archive is safeguarded for the future. The impetus for this is archive accreditation, which our Head of Library and Archives will be applying for next year. It's exciting to be part of a project of this scale. The DHA is a wonder!
Aside from the experience of speaking at this wonderful international conference, I got to hang out with my mom and some of my best friends from back home. I always love visiting LA.
The Great Northern Viv and Larry Fan Meet-up
In June, Vivien Leigh and Laurence Olivier fans from around the North of England descended upon Bradford for the Great Northern Viv and Larry Fan Meet-Up. I organised this event to give people for whom London may not be as accessible a chance to engage with Viv and Larry material and meet other fans. We took a behind-the-scenes tour of the NSMM collections and, together with my manager, Claire Mayoh, did a little workshop about how to research in archives, using photographs of Larry and Vivien from the Daily Herald Archive. I also brought along one of the albums I won at the Sotheby's Vivien Leigh estate auction a couple year ago.
We rounded off the afternoon with cake and tea at the Cake 'Ole in Bradford City Park. So much fun! Thanks to all of you who attended! It was great to meet new people.
Reframing Vivien Leigh
Last weekend, I met up with University of Exeter film professor, Lisa Stead, to chat about her current research project: " Reframing Vivien Leigh ". Lisa is working on a book of the same title about Vivien Leigh and archival representation, particularly in the South West of England. Part of Lisa's project has been interviewing fans with personal collections/archives, and I feel honoured to have been included in this category. We talked about personal aspects of collecting, why archives are important, and why we think Vivien deserves to be remembered. As a side note, Lisa was the first person to visit the Kendra Bean Collection in my newly remodelled home office!
RMLO Box 6
Last but not least, here are some highlights from Box 6 of the R ichard Mangan Laurence Olivier Collection. Thanks to the Viv and Larry Patrons, I'm nearly done repackaging the entire archive. To date I've catalogued over 1,000 individual pieces of memorabilia. Scanning is taking a little longer. But I'm getting there!
Box 6 covers Larry Olivier's career from 1944-1945.
If you enjoy the content at vivandlarry.com, please consider becoming a Viv and Larry Patron. Click the banner below to learn more.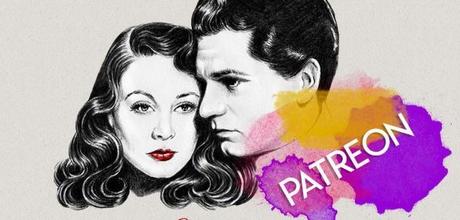 Tags: events kendra bean collection life richard mangan laurence olivier collection