In 1969 I went to work in a cafe in Devon for the summer season, with my best friend. Opposite the cafe was a sweet shop, which wasn't a good thing for two teens who liked chocolate. Most days we bought Mars Bars in packs of three, and ate them in one sickly, sticky chocfest. This went on, day after day, until we returned home at the end of the season, at least half a stone heavier, but unfortunately not cured of the  chocolate cravings.
  For some unknown reason, I had kept every one of the wrappers, and discovered them at the bottom of my case as I unpacked.  I clearly remember staring at them for a few minutes before admitting to myself that I was probably a hoarder.  
A few weeks later I went off to Art College and the Mars Bar wrappers ended up plastered on my bedroom wall. Over the next four years the collection grew until most of that wall was covered.  Fortunately, my boyfriend (now husband) was also an art student, and didn't seem to think there was anything strange about decorating walls with sweet wrappers.  Every move we made after that - and there were several - the wrappers came with us, until eventually they were shoved in a box in the attic and forgotten about. 
Fast forward 30 odd years and I was looking at ways of making some extra money.  Rooting through the attic I found three boxes that would turn out to be very lucrative. Opening the first two I discovered huge piles of Petticoat magazine, which had given me so much pleasure in my teens. Each week a copy would plop onto the doorstep, along with my younger brother's Beano. I can hear that sound now, and feel the excitement of scooping up the magazine and racing upstairs to my bedroom, where I would lie on the bed, devouring articles about heavy petting, girls who let boys go too far, and how to look like Twiggy. 
After some deliberation I decided to put the magazines on eBay. I phoned my friend whose husband deals in antiques, and asked what I should put them up at. She suggested £100. I was flabbergasted, and told her they would never fetch that. A week later I was nearly £2000 better off and five years of Petticoat magazine were winging their way to Japan.
  On a high after an unexpectedly successful sale, I peered into the third box and spotted the Mars bar wrappers. I doubted they'd sell but took a chance and posted them to eBay. I can't remember how much they sold for now, but I know it wasn't to be sniffed at. A while later, I found a stray wrapper and was about to throw it away when I thought I might try my luck on eBay again.  That brought in near enough £8 if I remember rightly. 
Collectors are, on the whole, quite an obsessive bunch. I realised, through the sale of the magazines and the chocolate wrappers, that most collectors would stop at nothing to get that thing for their collection. I used to visit a lot of jumble sales, charity shops, car boots and antique sales. I've only slowed down because I can't get much more in my house. I'm down to two collections now: teapots and Sylvac pottery. 
The teapot collection started by accident, 44 years ago. We were living in Leeds and I nipped into a junk shop. There, on a shelf, half hidden by various dusty artefacts, was a green and silver teapot in the shape of a car. I fell in love. It looked like it was Art Deco and I had to have it. The price tag said £6 which was about the amount of money I had in my purse for the next week's meals, but, hardly daring to think about that, I handed over the money and emerged from the shop with the first of at least a hundred teapots I collected over the years. It was the history of the old pots that I loved to think about and I only stopped collecting them when I realised there were repros being produced in large quantities. That wasn't what I was after.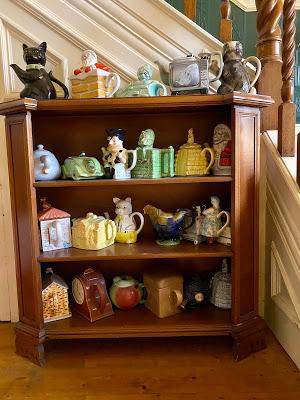 The Sylvac collection came about through my Gran, although she never knew it. She had a few vases and pots in her house that always fascinated me. One bowl had a kingfisher in the middle, something I'd never seen before, and two of the vases were circled by tiny dancing rabbits. When my gran died I was allowed to choose one thing to keep. I chose the kingfisher bowl, and although the bird's beak had been broken and fixed with yellowing glue that bowl meant the world to me. 
As I got older and more interested in filling our house with bits and pieces (or 'crap' as it was labelled by the husband, who had lost his romantic vision of how such quaint objects could enhance our decor) I collected the dancing bunnies and the droopy faced dogs that were so typical of the distinctive green pottery. They reminded me of my gran, and that made me happy.  There was one particular piece that I was desperate to get hold of, and that was  a slipper with a dog inside.  One day, walking through Lancaster, in the window of a junk shop, was the dog in the slipper.  The shop was closed for lunch. I was devastated.  Never mind, said the husband, we'll call on the way back. To my dismay, as we  returned to the shop, door now invitingly ajar, I glanced in the window.  The slipper, with its dog, was gone.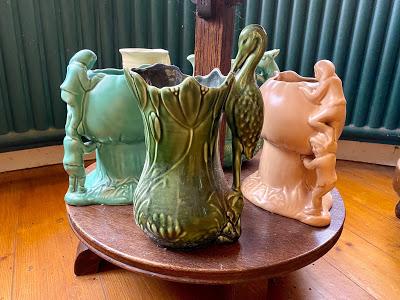 I still have the collector in me.  I'm sure one day I'll find that dog, and when I do my collection will be complete.  Or almost...
The Collection
by Jill Reidy 
It starts with just the one But that's really not much fun  So a second one is found and pretty quick Then, it seems, to have a pair Is neither here nor there Let's find some more and get a proper kick
However much you've got You still need that extra pot Or card or bowl or book or fancy stamp   The collection's not complete Til you cannot see your feet  As your hoard of random items sets up camp
When you struggle to get through From room to room to loo Then you know you've just created quite a beast You're in up to your neck But really what the heck You've spotted just that one last vital piece
Thanks for reading - Jill 
Email This
BlogThis!
Share to Twitter
Share to Facebook
Reactions: