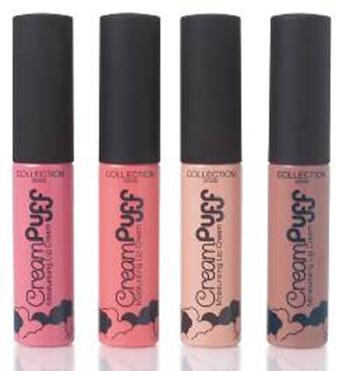 A velvet finish with matt & muted tones, it's the must-have Cream Puff Lip Cream by Collection 2000
Velvet vibes have been hitting the catwalk, the high street and have been seen on our favourite celebs; now this touch-tastic sensation is landing a smacker on our lips! Collection 2000 Cream Puff Lip Cream (£2.99) is the new velvet-feeling, matt-looking, muted and moisturising lip cream.
For a velveteen pout that doesn't look puckered, Collection 2000 Cream Puff Lip Cream is your perfect product. Enriched with a creamy, hyper-moisturising formula that is packed full of vitamins, this innovative cream with a powder finish is a lip-loving product that provides a unique matt, long-lasting lustre to the lips. Powder microspheres hug the creamy colour to your lips to make sure that your pout is perfect all day, or night!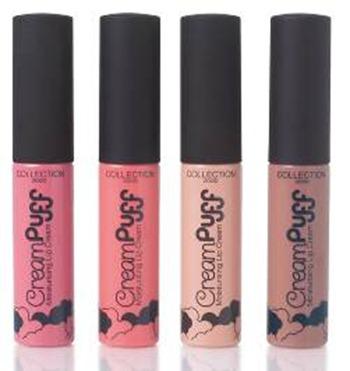 The
Collection 2000 Cream Puff Lip Cream
is available in four neutral shades with refined hues that will transform your beauty look. Try
Cotton Candy
(pink),
Fairy Cake
(coral),
Powder Puff
(nude) and
Angel Delight
(beige) for a fashion-forward beauty look that is bound to wow!
Athena Skouvakis, the makeup artist for Collection 2000 says: "The new Collection 2000 Cream Puff Lip Cream range is a step forward in the move to align beauty and fashion. The velvet finish of the creams mirrors fabrics used on the catwalk and gives an instant fashion fix.
These cute creams are the perfect way to completely change your beauty look and with a long lasting formula, will keep lips looking lush for longer! Just use the built-in wand to apply the creams to your lips, purse together to ensure that the creams are blended well and you are ready to go. To make the most of this matt finish, use muted shades on your eyes with romantic pinks on the cheeks for a more fresh and natural spring finish."
Available nationwide in Superdrug from 9th June and Boots from 16th June