I have always been a fan of any customized gifts. Thus, I am busy doing it all at its best for my baby's 1stbirthday (theme: princess). Thus, surfing around web for personalized gifts and decoration, I came across this very beautiful website "Collage.com" which has customized and high quality photo blankets. The photo quality in this blanket will surely blow your mind. Let me just take you through a short review of Collage Custom 50x60" Fleece Photo Blanket.
Price of Collage Custom 50x60" Fleece Photo Blanket: $109.99
Buy HERE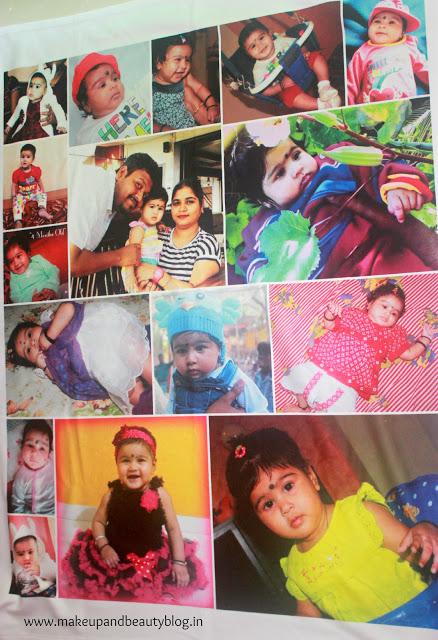 My views about Collage Custom 50x60" Fleece Photo Blanket:
I received this is a very neat and clear smooth plastic bag. To customize the blanket:
·

  
Go to the website
·

  
Click on 'Start a new blanket'
·

  
On the project section, you will have to upload your pictures that you want on the blanket.
·

  
You can also customize the background, texts and portrait.
 I couldn't think of anything else, than having my lil' one's pictures on the blanket. Choosing from thousands of best pics of my baby, it was a real tuff time to put some. Though somehow managed to get the very best ones. But, initially I was a little confused for the pics being blurred on the blanket…..but, as I received it, I just could stop starring it. The pic quality is excellent on blanket. Also the rectangular shaped has very good finished edges.
It's a fleece blanket with a white background. Its superb comforting and glad I choose it for my baby, as it's very soft and smooth. This also has warmth and is very lightweight. You can also get it in other sizes as per your need. This is best for my baby's gentle skin and can be washed in machine.
Thus, if you are looking for unique and customized gift best quality personalized fleece photo blankets can be the best choice.
I am using this as a decoration for my baby's birthday party……….it's so good that my family members don't want me to use it but store it for lifetime.
Pros of Collage Custom 50x60" Fleece Photo Blanket:
• Very unique gift
• Too Lightweight.
• Soft
• gives warmth.
• Customized pics are of superb quality.
• can be washed in Machine
• Gentle on baby's skin.
• They have worldwide shipping.
• Reasonable price.
Cons of Collage Custom 50x60" Fleece Photo Blanket:
• Nothing!