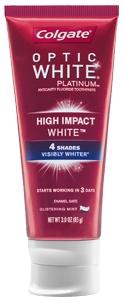 There are a lot of choices when it comes to purchasing toothpaste. How do you select the right one? The best toothpastes have both health and cosmetic benefits. From a health standpoint, you'll want a toothpaste that has fluoride to fight cavities and helps protect your enamel. But from a cosmetic standpoint, you'll want that same toothpaste to help your teeth look their best! Years of drinking and eating can leave teeth looking dull or yellow, so it's prudent to seek out a product that will also make your smile whiter and brighter.
With all this in mind, Colgate Optic White High Impact White Toothpaste is an excellent choice. Not only does it protect your enamel and provide anti-cavity fluoride protection, but it is professionally designed with 2% hydrogen peroxide to whiten your teeth. In fact, with daily use (brushing twice a day for six weeks), it brightens more than the leading whitening strip! But with all this power, it's gentle enough to use every day, too.
I've been using Colgate Optic White High Impact White Toothpaste myself, and I am very pleased with the results. My teeth look and feel great. I'm happy knowing that my toothpaste not only has cavity-fighting power, but also has hydrogen peroxide to whiten my teeth. If you're hoping for a brighter smile in addition to cavity-fighting power, choose Colgate Optic White High Impact White Toothpaste next time you're at the store. Your smile will thank you!


Disclosure: I received a complimentary product sample from Colgate-Palmolive to facilitate my honest review.