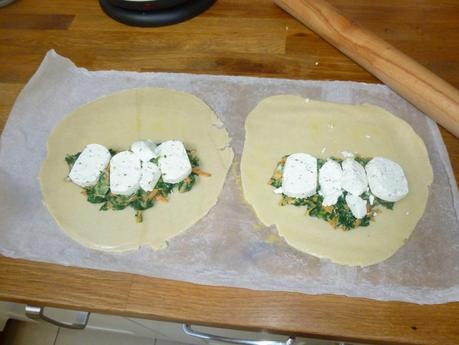 Yesterday was freezing, and although I've been eating lots of salads recently and really enjoying them I was in the mood last night for some 'cold weather stodge'.
It worked out really well as I had a bag of spinach leaves that need using up, some out of date goats cheese, a bag of carrots in the fridge and to wrap it all up in ... a pack of ready made pastry that I got a couple of weeks back on a 'yellow stickered' reduction, so two weeks out of date.  So this was a brilliant use it up before I need to throw it all away meal .... as if I would thrown food away ;-)
Simple recipe for those of you who like recipes.


Spinach and Goats Cheese Pasties


Wilt your spinach in a pan. Drain in a sieve and then squeeze all the excess moisture out.
While this cools grate the carrot and then mix into spinach. Roll out your pastry to the shape and thickness you want.
Top with slices of goats cheese (or any cheese you have to hand). Brush around half of the outside edge of pastry and fold over, crimp to seal.
Brush with beaten egg or milk.
Make a couple of slits to allow steam to escape. Cook for around 30 minutes in a moderately hot oven.
(I started mine off on the floor of the Aga top oven to stop me getting a soggy bottom and then placed on the shelf in the mid position for the final 20 minutes.)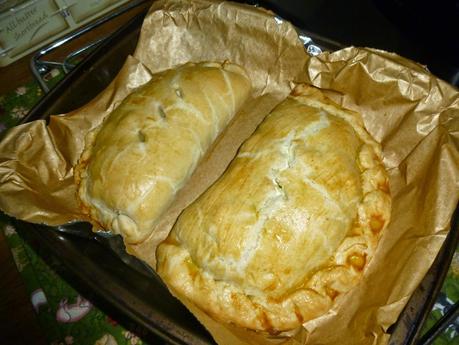 Ta Da ..... Goats Cheese and Spinach Pasties.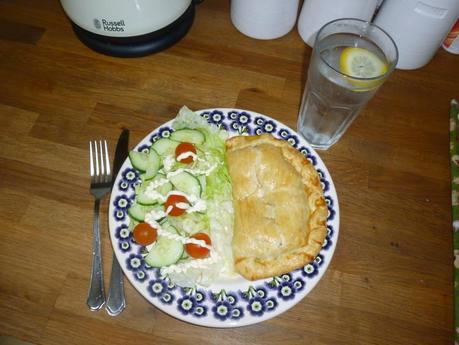 Served with a quickly cobbled together salad, I just couldn't go a whole meal without any salad now could I.  Mum phoned half way through me eating this and after half an hours chat it had gone cold on me  ....... and guess what, it was even more delicious cold!!  Thanks Mum :-)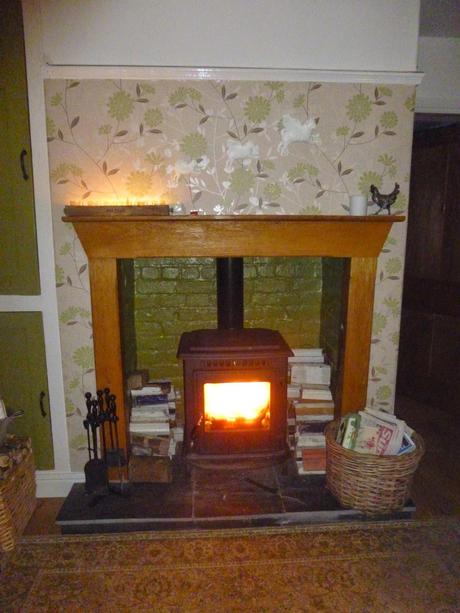 And proof that I'm still here after a night of pyromania with the wood burner.
Thank you for all the warnings, but I am sensible and do check the wood stacked around the wood burner.  The wood at the back heats up more quickly than that at the front so that is always used first.  Everything is always checked carefully before we retire for the night and we do have regularly checked, fully functioning smoke detectors AND a Jack Russell who beats any smoke detector in letting us know immediately if there is a chance of any smoldering .... she would have made a perfect fire detection dog.  She doesn't even like the toast being in the toaster for more than enough time to lightly brown it, and comes and sits by our side as if to say 'your toast's done' before it even pops up!!
Does that set your mind at rest Mum ;-)
Sue xx