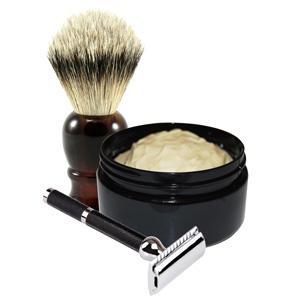 When it comes to grooming for a man, one of the most important aspects is a nice, clean, close shave.  But, did you know that each time you shave, your facial skin loses sebum?  It is these very same natural oils that help reduce your facial skin from drying out (chapping).  That is why when shaving facial hair, it is important to use a shaving cream or gel.  These products are used to create a barrier to help reduce the friction on the skin from the razor's sharp edge.  What using a shaving cream or gel will do is prevent those pesky red shave bumps from appearing.  Therefore to prepare for a clean shave, a good lathering shaving cream is a necessity in any shaving arsenal.
We have been playing around with a few different shaving cream recipes for a while.  We wanted to make sure that when we did create a finalized recipe not only would it have skin loving benefits, but also have amazing lather too.  And, the great news is- we nailed it.
The first step in creating a rich lathering shaving cream is to select the right kind of ingredients for this cold process recipe.  The two biggest categories that were important to this recipe was lather and glide.
To help assist the lathering aspect, we selected:
Coconut Oil 76-  a staple in soap making.  This oil adds tremendous bubbles to soap- aka lather.
Palm Oil-  another list topper in soap making.  This oil adds a rich, creaminess to the lather.
Castor Oil- another oil that adds to a rich and creamy lather.  And, this oil also helps to attract moisture to the skin.
Lanolin Oil-  great lathering ability in soap.  Also provides moisturizing elements to the skin.
Shea Butter-  this butter provides a wonderful creamy lather and has the bonus of conditioning aspects for the skin.
When it came to a smooth glide, we knew that Bentonite Clay was the go to ingredient for this.  Bentonite Clay provides for a very nice glide on the skin's surface.  This was a no brainer to include.  The Bentonite Clay in the finished shaving soap will make for a more comfortable shave with no irritation.
Making a cold process shave soap is really very simple.  The soaping procedure pretty much stays the same, however, there are a few differences for this recipe.  First, we decided to add sodium lactate to the recipe.  The addition of this ingredient provides for natural moisturizing elements in the finished product, which is great for shaving soap.  On the soapers end, Sodium Lactate also helps the soaps to unmold easier, which brings us to the second difference.
Instead of using a loaf mold for this recipe, you pour the soap batter into basic circle molds.  The first time that we tried this recipe, we did not include the sodium lactate.  And, although the open portion of the soap in the mold was beautiful; once we popped the soaps out of the mold, let's just say we knew we could do better (that is with sodium lactate).
As for the Bentonite Clay, this is added to the soap batter at emulsion.  You will want to ensure that this clay is incorporated throughout the whole mixture.  The best way that we found to do this is to use a stick blender, as well as a spatula.  You will have to scrap the sides of the bowl several times and stick blend in between when mixing.  Once you notice all clumps of clay are broken up and your batter is smooth; you are safe to pour.
The shaving soap recipe is just that simple.  We did stick the molds in the freezer before popping the soaps out.  The addition of sodium lactate and freezing did help to remove the soaps from the molds with ease.  We found that these two little steps made a world of difference when it came to unmolding.  It was just hands down a way better route to go.  After the long awaited cure time, the result of the shaving soap is absolutely phenomenal.  The lather is truly rich, creamy, and plentiful.  The soap is smooth and really provides a nice gentle glide for the razor.  The final conclusion that we had for this recipe is once you try a bar, you will never go back to store bought shaving creams again.
If this blog has peaked your interest in trying to make your very own shaving soap, check out the Cold Process Shaving Soap Recipe.  You can either click on the link, or find the recipe under the cold process soap in the Free Recipes and Classes section of Natures Garden's website.  You will not be disappointed.
Natures Garden is not responsible for the performance of any of the recipes provided on our website. Testing is your responsibility. If you plan to resell any recipes we provide, it is your responsibility to adhere to all FDA regulations. If there are ingredients listed in a recipe that Natures Garden does not sell, we cannot offer any advice on where to purchase those ingredients.