Clouds are swelling with moisture and the light reflected off the moon casts an eerie glow onto the thick beasts hovering in the sky, gathering like trick-o-treaters at the dark porch of the most popular house. Its Halloween and what better way to celebrate than to read some amazingly spooky tales. So cuddle in and warm your fingers, you will need them to visit the 100+ writers that are taking part in the Coffin Hop this year. Many creepy things to be read and gobs of haunted prizes to be won! You can see the list of all authors at http://coffinhop.wordpress.com
What am I doing??? Glad you asked. Not just carving pumpkins here! First, there are going to be lots of amazing writer presenting terrifying stuff right here on my blog. Some of it bloody. Some soupy and maybe even a little chunky. Enjoy them all. Check out the star-studded line-up:

Oct 25th L. M. Murphy

Oct 26th Lisa McCourt

Oct 27th Mandi Lynch

Oct 28th Carrie Crain

Oct 29th Mark Scioneaux

Oct 30th Julianne Snow

Who knows who else may be sitting on my porch passing out treats to all you wicked little ghouls.

What am I doing today? Right now I am picking out a small shred of terrycloth that's wrapped around one of my incisors. And judging. Oh yes. I am judging. But not you. I am judging for Jerzi's #55WordChallenge this week. Jerzi is code name for Lisa McCourt, if you didn't already know. Slink on over there and enter her creepy contest- it runs from today at noon until Thursday at noon. You can write 55 words. I know you can. Guess what the prompts are for the writing competition? Three of my paintings. How cool is that? You can go see for yourself at http://www.lisamccourthollar.com/
I'll be judging, peering down at your words like a silent owl perching in the shadows.

I admit that I originally planned to write about traumatic insemination but decided against it. Some creatures lurking about don't have vaginas, so their mates drill their own hole, with their penis! Really. Google it. Might be a story in there somewhere.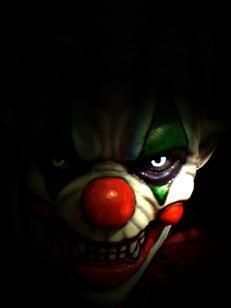 The final thing…everybody wants something to fill their bag with. Don't wanna be that kid who plops down on the living room, and dumps out haul of only lint and toothbrushes. Coupon codes for free downloads of my stories to random commenters every day of the Coffin Hop. So comment. Make sure I can get a hold of you if you win. Then branch out. Do Jerzi's 55 word challenge. Do visit every stop along the blog. The link is at the top of this post, but I'll repeat myself here: http://coffinhop.wordpress.com