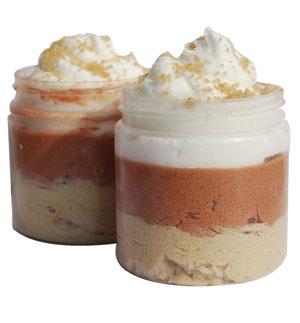 Coffee Sugar Scrub Recipe
A type of drink called Toffee Crunch Latte was my inspiration for coming up with a recipe called Toffee Crunch Latte Sugar Scrub. Melissa is an employee at Nature's Garden whom has a deep craving for coffee every day during her shift; and it dawned on me to ask her what her favorite type was. I am always making her coffee every day and it surprised me that this was her favorite type of coffee, since usually she prefers hers black. The recipe overall is a fun idea to try and construct as it brings together the wonderful scents of coffee and caramel into different color layers of sugar scrub with a nice touch of whipped cream and brown sugar on top.
Ingredients Needed:
454 grams Whipped Soap Base
152 grams Powdered Sugar
298 grams Brown Sugar
46 grams Café Caramel Fragrance Oil
46 grams Vanilla White Color Stabilizer
Brown Oxide Fun Soap Colorant
Directions:
Start off weighing out 454 grams of soap base, 46 grams of Café Caramel Fragrance Oil, and 46 grams of vanilla white stabilizer; then you want to mix them together in a deep mixing bowl until you get a ball of dough.
The ball of dough is then divided evenly into three separate bowls.
In the first bowl, add 152 grams of powdered sugar; carefully folding the sugar in to incorporate it in evenly throughout the dough.
In the second bowl, add 149 grams of brown sugar into the ball of dough and mix it into a light caramel color.
In the third bowl, add 149 grams of brown sugar with enough brown oxide to make a dark coffee color.
 When you get your colors, put the layers into the four ounce clear containers. Be very careful with the process as some of the colors will have the tendency to stick to the side of the container and dominate over the other layers. Your layers should be flattened out very smoothly to keep the colors from mixing.
 Following the process of getting the brown accented layers on, the next step is to put the whipped cream on top. You  put the white portion of the mixed batter into a zip lock bag with a cake decorating tip and carefully try to whip up your own unique swirl on top of your creation to make it look like whipped cream sitting on top of a cup of latte.
 Kick up your creation to the next level  by putting a sprinkle of brown sugar on top.
The whole experience was something new to me as I attempted to go head first into this project, since I have never had any experience before making a sugar scrub. I enjoyed the final look of the project when I was finished; and it had me craving coffee afterwards as the aroma just reminds you of walking into a local coffee shop early in the morning. If you are a coffee lover, then this recipe is sure to please.  Have fun with this recipe!
Christian (Recipe Development)
Natures Garden