Chutney Week: Part6, Coconut Chutneys

The  twists and turns of Coconut Chutneys…
Natasha Ramarathnam: Coconut Chutney, There are many, many ways of making coconut chutney, but this is the way my mother (and her mother before her) made it, and I am sticking to it.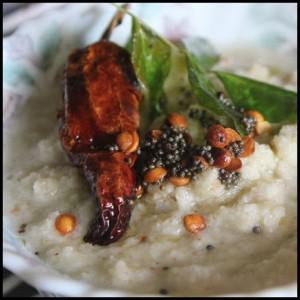 Ingredients:
1 medium Coconut grated
3 Green Chilies (more or less, according to taste- I normally use 2, but you might be better off with 3)
1 marble size one ball of Tamarind (about the size of a marble- be careful, because if you put too much, the color will be a muddy brown. Also, some people substitute it with lime juice- both are authentic, go with whatever suits you better)
salt to taste
[there are variations with added ginger (no tamarind), and roasted chana dal- we don't use either]
For tempering:
1 tsp Oil
1/4 tsp Mustard seeds
1 Dried Red Chili (to add flavor and color only)
4-6 Curry leaves
1/2 tsp Chana dal or Urad dal
Method:
Grind together grated coconut, green chilies and tamarind, with a small quantity of water. My cue for knowing when to stop grinding is to check if the green chilies are well ground and mixed. Take out into a bowl, and add salt as per taste.
In oil, make the tempering with the mustard seeds, curry leaves, red chilli and dal. When the mustard seeds start to splutter, pour it over the chutney and mix well.
Since nobody in my family is particularly fond of the tempering, I normally skip that step completely.
Grating coconut is a pain), so I normally cut the coconut into inch long pieces, and wet grind them with water, tamarind and green chilies- it takes a bit longer to grind, and you might find a few slivers here and there, but it is much easier and faster that way.
Nidhika Jindal: Coconut Chutney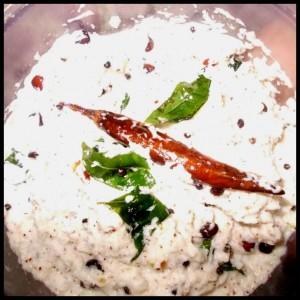 Ingredients:
1 whole chopped Fresh Coconut
2 Green Chilies
50 gm Boondi (the original recipe on net said roasted chana which I dint have at home today so thought of the nearest possible substitute)
2-3 tbsp of curd to ease grinding and for taste (I dint want to use too much water for grinding, not mentioned in the original recipe)
Salt to taste
For tempering:
1 tsp Oil
1 tbsp Chana dal
A pinch of Asafoetida/Hing
½  tsp Mustard seeds
1-2 Dried Red Chili
a few Curry leaves
Method:
Blended everything in the grinder to make a chutney
For the tempering: Dry roast chana dal on low flame, keep aside and let it cool. Heat oil in the same pan, add a pinch of hing, throw in dried red chillies, splutter about mustard seeds and curry leaves. Remove from flame if the oil has become too hot, mix the roasted dal and sauté. If the oil is still hot add a few spoons of water before everything starts to burn and mix it in the chutney.
Namita Tickare: Coconut Onion Red chutney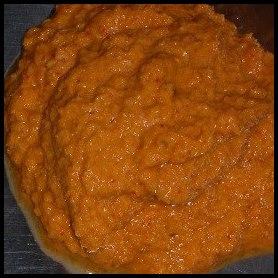 Ingredients:
½ cup Freshly Grated Coconut
½ Onion
2 tbsp Roasted Coriander seeds
2 Dry Kashmiri red chilies
A small amount of tamarind
Water
Salt to taste
Method:
Grind the roasted Coriander seeds first. Then add the freshly grated coconut, Onion, dry red chilies, tamarind, salt and little water. Grind to make fine paste.
Nivedita Koppiker: Coconut Mango Chutney ( picture not provided)
Ingredients:
1 cup Coconut
1 small Raw Mango
3 to 4 flakes Garlic
3 to 4 Green Chillies
Salt to taste
Method:
Grind all the above ingredients to a fine paste & the chutney is done.
Mridula Padmanaban:Almond chutney , Tastes very similar to coconut chutney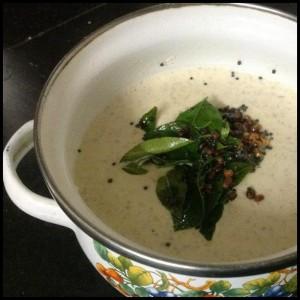 Ingredients:
10-12 Almonds
2 tbsp Roasted gram
1 tsp Asafoetida/ Hing – 1 tsp
1 Green chili
Salt as per taste
For tempering:
Oil
Mustard seeds
Curry leaves
Urad dal
Method:
Grind the above ingredients. No need to peel the skin of almonds.
Finally tempered it with mustard seeds, urad dal, curry leaves.