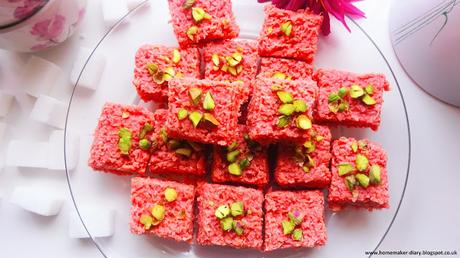 I have a very strict policy against coconut, never leave it lying stray in your kitchen cabinet. Use it IMMEDIATELY! 

 Coconut in all its forms imparts a rich flavor to any dish whether savoury or sweet and it comes with a bonus of health benefits.


Coconut has numerous health benefits, coconut water can be used to maintain the  electrolytes balance in your body. Coconut oil is also extremely beneficial, it aids in digestion and improves HDL (good) cholesterol. Coconuts are also high in fiber.
Dear reader, today I am sharing one of my best-loved recipe with coconut and that is coconut candy. Even the smell of coconut makes me reminisce upon my fondest childhood memories. Yes! it was coconut candy, just a glimpse of this candy can make a hardcore dieter weak beg for some of this uber- delicious candy. Although I don't get to enjoy it as often as I did in my yesteryears but I do make it from time to time to pamper my inner child.

I have used dessicated coconut but you can use the same amount of freshly grated coconut, if you have access to it. I have also used condensed milk which lends a rich flavor to the candy. The best thing I like about making homemade candy is that you can control the quality of the ingredients used.
Keep in mind a few tips while making it, firstly you have to switch to your fast forward mode while transferring it from the pan to dish because if you don't you it will stick to the pan.Secondly always use a greased parchment paper for setting the candy and last but not the least make cut marks on it while still hot. 

Cooking Time: 25-30 mins☻      Serves: 6-7☻      Difficulty: Easy☻      Cuisine: Pakistan/India 



IngredientsQuantity
dried grated coconut200g      
sugar1 cup
condensed milk415g
butter2 tbsp
double cream1 tsp
vanilla extractfew drops
red food colour1/2 tsp
pistachios for garnish (optional)as needed


Melt butter add the condensed milk, sugar and dessicated coconut. Leave to cook on medium low heat. The mixture starts to thicken rather quickly, so keep stirring from time to time.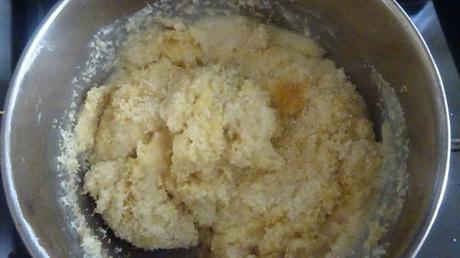 Add 1tsp cream, keep stirring. Now add the color.

.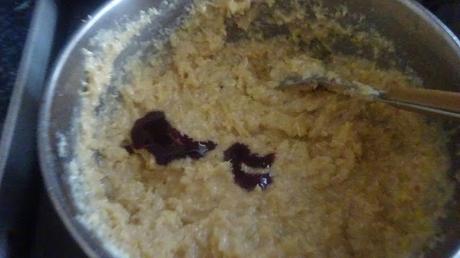 It will take at least 20-25 minutes until the mixture starts to leave the sides of the pan.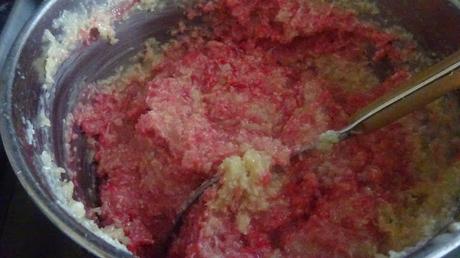 Remove from heat immediately and transfer to a greased 9" square dish lined with parchment paper. Press the mixture firmly with the back of the spoon.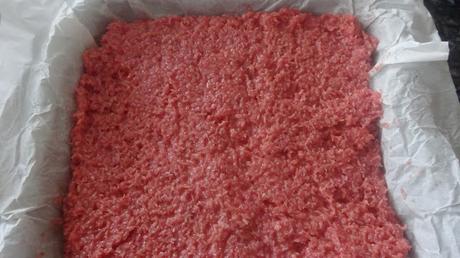 Leave to set at room temperature. At this stage you can add slivered pistachios.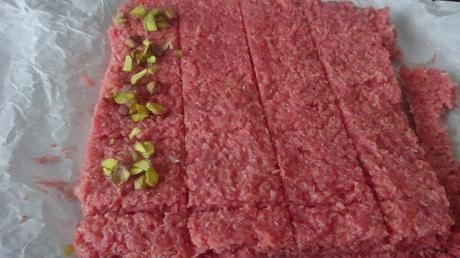 I personally find it harder to cut into pieces once its cold so I make marks or lines on the candywhile still warm.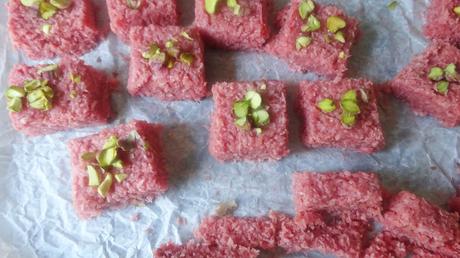 Once its is cool you can cut it into desired pieces. You can store it in an air tight container. This candy can be packed in small goodie bags to be presented as gifts to friends and family or pack in kid's lunch boxes for a sweet treat.Tip: After you have finished a whole jar of coconut candy and you still need something sweet, try my hit White Coconut and Chocolate Cake recipe.