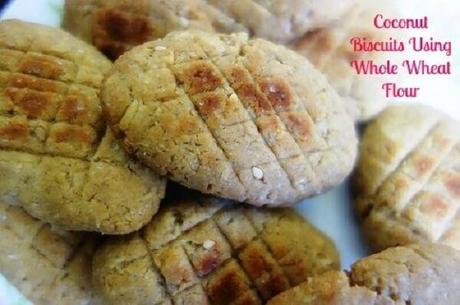 Coconut biscuits using whole wheat flourHave you read the whole wheat flour home made biscuits recipe? Today I bring to you a variation in it with coconut. Recipe is coconut biscuits using whole wheat flour.We all love biscuits and so do our kids. There are so many options available in the market ranging from simple glucose biscuits to cream biscuits to cookies and what not.Internet is flooded with reports on how damaging these ready made biscuits, cookies can be for young generation. The commercially available biscuits contain loads of sugar, unknown quality of oil and chemical/preservatives. These biscuits are marketed as healthy options with fiber and the advertisements are so tempting that we all fall prey to them.I also know of many parents who serve biscuits on a daily basis to their kids. We as parents can try to limit the intake of such things by a spending a little more time and cooking such delights at home. Trust me you won't regret it.The whole wheat atta has  bran, germ and endosperm, basically the nutrition aspects of wheat intact. The usage of whole wheat ensure better metabolism and it is a fantastic source of carbohydrates and essential proteins. Fresh coconut is also versatile ingredient and gives a very good texture to the biscuits. Fresh coconut has medium chain fatty acids which aid in maintaining a healthy body weight ensuring right amount of fat in your child's diet.The recipe takes less than 45 minutes, is very nutritious and above all gives you a lot of pleasure Method to make coconut biscuits using whole wheat flour: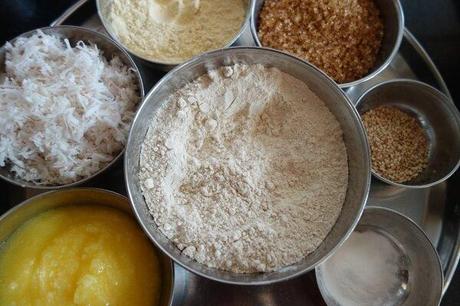 Ingredients for coconut biscuits using whole wheat flourPreheat the oven for 10 minutes at 180 degree C. Sieve wheat flour, gram flour and baking powder together. Add sesame seeds, ghee anc coconut to the mix one by one. Add the required amout of water to make  a firm dough.Roll into shapes like chapatti or oblong. Cut biscuits in the shapes you require (star, circle or any other shape). Arrange biscuits in a greased baking tray and bake for 12 minutes at 180 degree Celsius till it turns golden brown.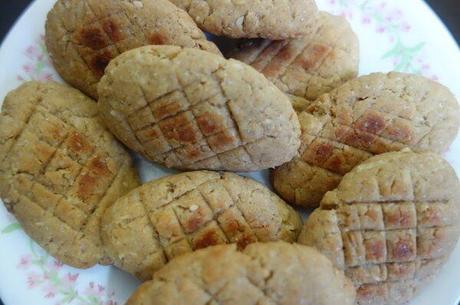 Coconut biscuits PrintCoconut Biscuits Using Whole Wheat Flour Author: Neha C IngredientsWheat flour or atta -2 cupCoconut grated – 1 CupGram flour / besan – ½ CupBrown sugar – ¾ CupBaking powder -1 teaspoonGhee - ½ cup (at room temperature)Sesame seeds – 2 teaspoonWater – 2 TablespoonButter paper to line the baking try (optional)InstructionsPreheat the oven at 180 degree C for 10 minutes.Sieve the whole wheat flour, gram flour and baking powder togetherAdd the sesame seedsAdd the ghee to the above mixture and mix properlyAdd the coconut and mix againAdd water to make firm dough similar to chapatti doughPlease add water as required. I have used 2 tablespoons of water for making the dough. The amount required will vary depending on the granularity of floursTake some mixture in your hand and give it an oblong shape. You can also roll out a big chapatti (1/2 cm thickness) & cut the biscuits in desired shape using the cookie cutter / knife. I have tried both the versions.Arrange the biscuits on the baking tray lined with butter paper or greased with a little bit of gheeBake them at 180 degree Celsius for 12 minutes. Do check them after 10 minutes. If the biscuits are golden in color take them out of the oven and let them cool on a cooling rack. In case, they are light brown or whitish in color, please bake them for 3 to 4 more minutesOur biscuits are ready to be served3.2.2885  NOTE: I used 2 tablespoons of water for making the dough. The amount required will vary depending on the granularity of floursServing Options:My son loves these biscuits with a hot chocolate and I often add them as a snack item in his lunch box too.These biscuits can also be served as teething biscuits for babies above 1o months. Kindly monitor the babies while eating to avoid any choking accidents.Storage:Store these biscuits in an airtight container. They store up well for 10 days.Hope you all liked the recipe. Do try it and let us know how it turned out for you.Further reading:Homemade peanut butter recipeHomemade cooker cake for babies and toddlersRemember Sharing is Caring. Kindly share this article in Facebook and Twitter.