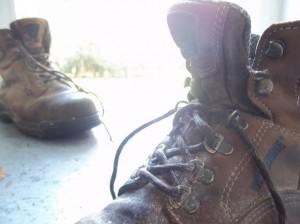 I had overheard Sahyma tell someone that she was going to rent the caravan out for $50 a week.  I went away with that and came back to her.  I proposed paying her $50 a week and an additional $20 to use the ute.  I would look for temporary work.   The next day I put up notes on the local notice boards.  The notice boards are all over town.  I put my notices in the IGA supermarkets.  There are two, a small one and a big one.  I listed out some of the skills that I've picked up and I wrote down number.
No one called.
I scratched that plan.  I didn't really mind that no one responded.  The idea was just a quick one that had spontaneously came about and it was just one of many that seem to cross my mind daily.  The days here at Sahyma's have flown and my having been here a month now already is a reminder that it is time for me to continue moving on.  There isn't much time is there.  Who am I kidding?  Who am I kidding?  Certainly not myself.  There is all the time in the world.  For my next place of visit I considered several.  The first that I called upon didn't need help but within a couple of days I had secured my next stop.  I'll be working with little joey kangaroos.  
The next step was figuring out how to get there.  The sanctuary is willing to pick me up from Mt. Barker, which is approximately 55/km from Denmark.  I put up an ad on a craigslist type of website called gumtree.  I also looked up the prices for taking the bus.  There is a bus that goes from Denmark to Albany.  There is also a bus that goes from Albany to Mt. Barker, but it is a different line and it leaves on the following day which would require a nights stay in Albany.  Two bus tickets and a night at the hostel in Albany.  A lot of effort for a little bit of travel.  
I spoke to the sanctuary and they are ready for my visit and said that I may arrive this Friday and so I will.  I received a response from my gumtree ad.  The girl that responded didn't leave a phone number and Friday is fast approaching so it was a dead end.  I also checked a website that I had found that is a share-a-ride website.  I looked to see who is heading to Albany and even crossed my fingers that someone might be going from Denmark to Mt. Barker (not a common route).  I had no luck.  The only person driving that way does so on Mondays.  That's strike two.  I had been speaking with Dave about my search for a way to get to the sanctuary.  I should have known better.  Dave offered to give me a ride directly.  I know I've said it before, but Dave is the man.