Sunday 11th September 2016
September would become a month in which I was quite busy and frequently attending walks (and other events) hosted by Brunel Walking Group.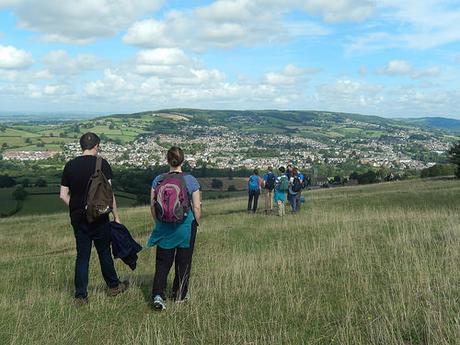 On this occasion, I joined a walk destined for the Cotswolds. No more than ten-miles in length; exploring an area close to Stroud that I'd not previously visited.
Our walk began at the Coaley Peak car park, just off the B4066. I remember it being free to use although, I wasn't one of the drivers. We would soon be following the Cotswold Way in the direction of Stroud (north-east). But, before that, we made a very brief detour south from the cars to the Coaley Peak viewpoint and topograph.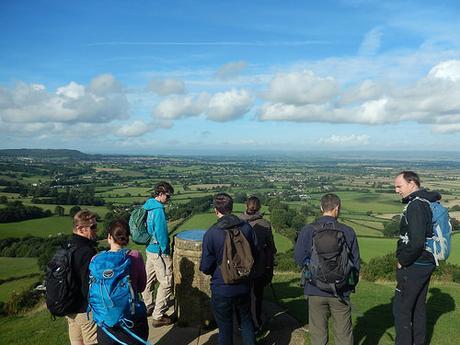 There must've been a chilled breeze in the air, as everyone was wearing some form of a jacket.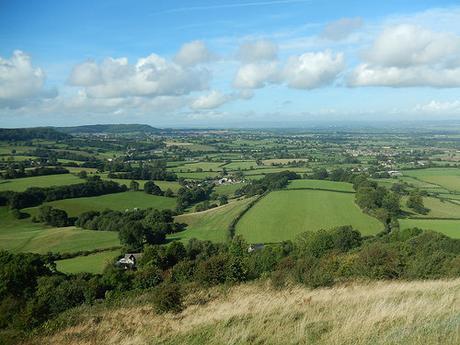 Views like this are quite common along the Cotswold Way. One day, I'm hoping to walk its full length (just over one-hundred miles) from start to finish.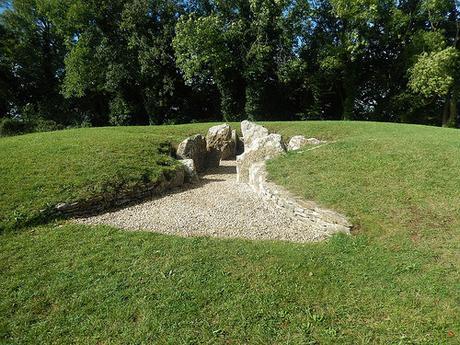 Moving forward with our walk and north of the car park, we stopped briefly at Nympsfield Long Barrow – which, as a few of us agreed; was much smaller and shorter than we had anticipated. You could almost say it suffers from a form of Stone Henge Syndrome!
Another long barrow (Hetty Pegler's Tump) is also only a short drive south down the road from here.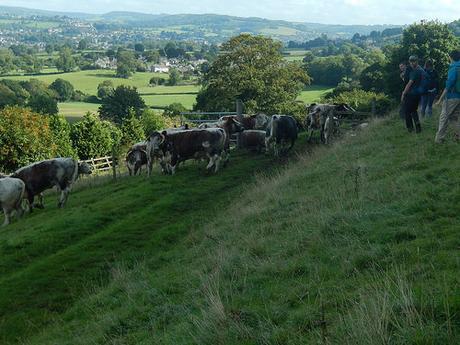 We progressed through Buckholt Wood and on towards Stanley Wood, before we were confronted with a static herd of "big-horned" cattle.
I sometimes wonder, whether the direction in which a cow's horns are pointing may be a reflection of its mood and intentions…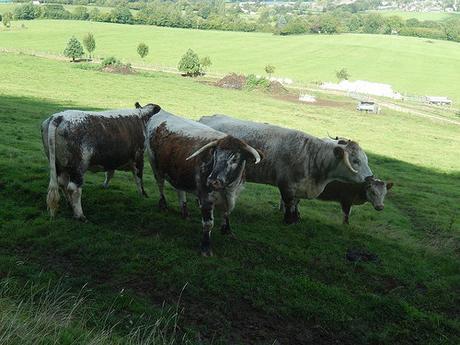 I'm not familiar with the name of the breed but they're often an intimidating sight and, in such a quantity, I possibly would've looked to avoid them, had I been walking through here on my own.
But, they posed no threat to any one of us or Jo's 7kg dog. At the end of the field, the farmer had been waiting and kindly held the gate open for us all to pass through.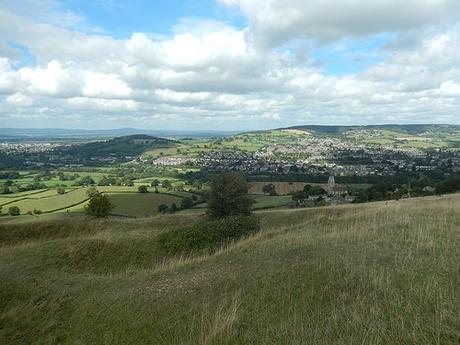 Stroud was ahead of us, as we descended from Pen Hill towards the roads of Selsey West.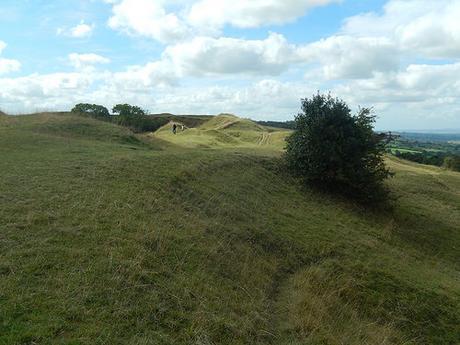 From there, we paused outside a pub where a couple of people stopped for a toilet break – leaving the rest of us to suffer the scent of warm Sunday lunch – before a short and steep climb to the top of Selsey Common.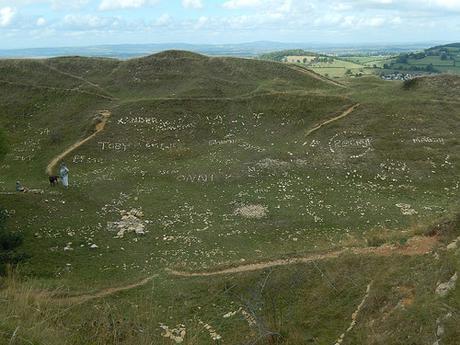 We had a short break up here; that smell of roast chicken and potatoes long blown away by the breeze. There was an area of depression – perhaps a former quarry – where a number of people had written messages or, at least, their own names, using rocks. As you can see, it was quite a spectacle.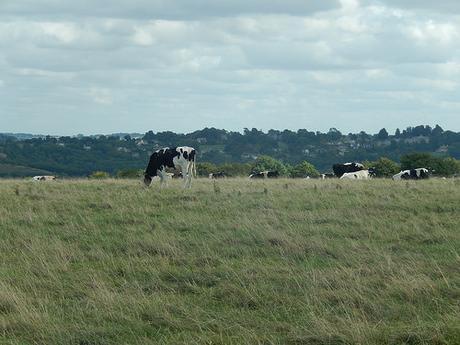 I'd not heard of Selsey Common before but, just east of here and across the A46, is Rodborough Common. South of that, lies Minchinhampton Common – across which, the annual Five Valleys Walk passes (I aim to do that again in September 2017).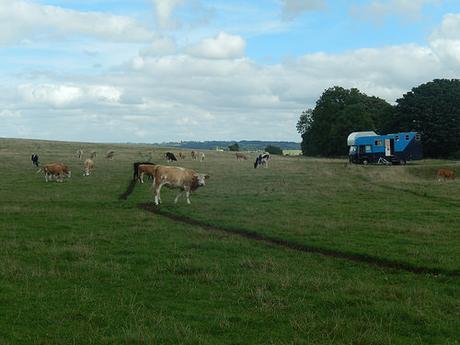 While I'm unsure of the exact route form here on, I'm confident that we would've left the Cotswold Way before departing the common. These cows were no more curious than any that we had previously seen.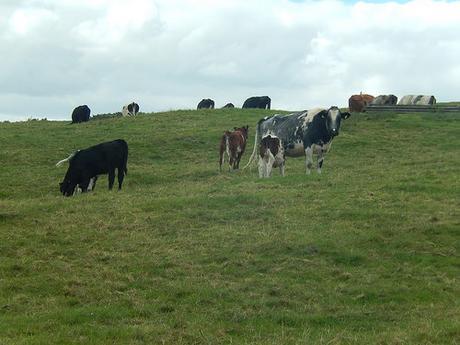 By now, we would've been descending south and in to Woodchester. More cows. Some with calves. They made a bit of noise but again, looked on from afar.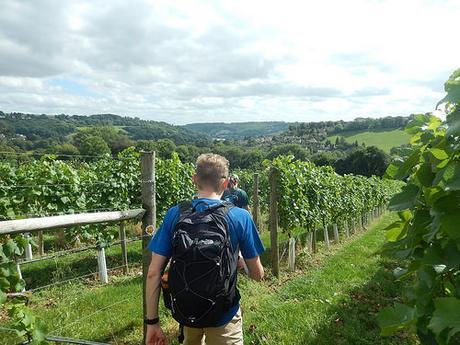 I remember descending through a vineyard. These typically aren't highlighted on OS maps but this would've been around North Woodchester. On the Five Valleys Walk last year, I passed by another vineyard to the north of Stonehouse…
Cotswold Stone; Cotswolds Hills… If I was a drinker, I might be familiar with Cotswold Wine!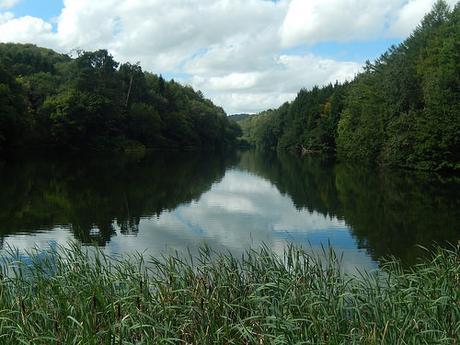 We entered the National Trust-owned Woodchester Park estate from its eastern end.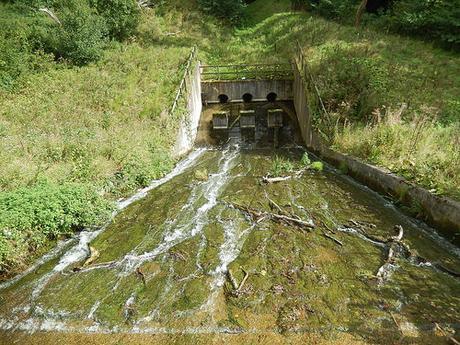 I'd been here once before, in early 2013. That was another walk with Brunel, led by a different member.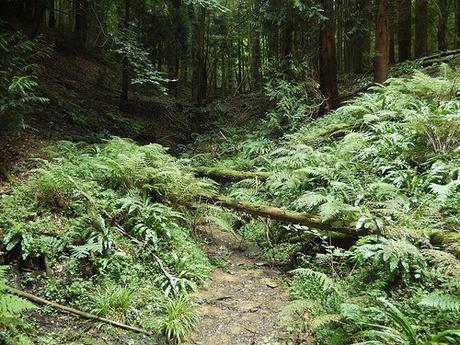 With several lakes and easy-to-follow woodland paths, it's a popular place for visitors from nearby and afar.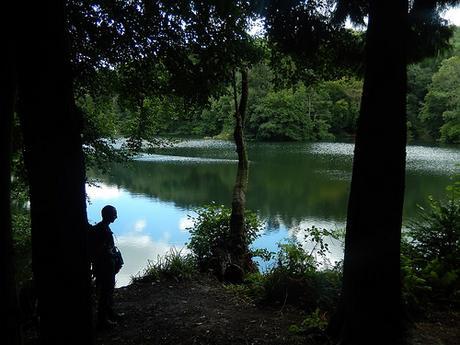 We took our time to stop at each of the lakes (I believe there are five, in total). This section of the park wasn't overly-busy with people, since the mansion sits towards the western end, near the main entrance and car park.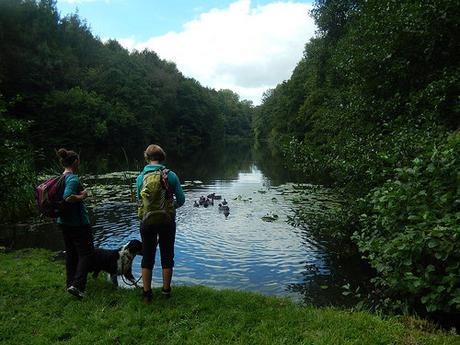 Only one of the lakes had a warning sign to keep dog out, apparently because of an issue with algae.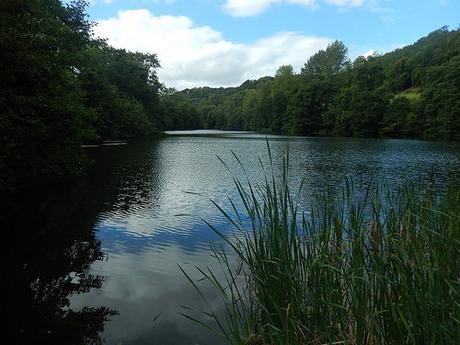 One member of our group decided to stop off for a wild swim, as the rest of us moved on towards the Gothic mansion.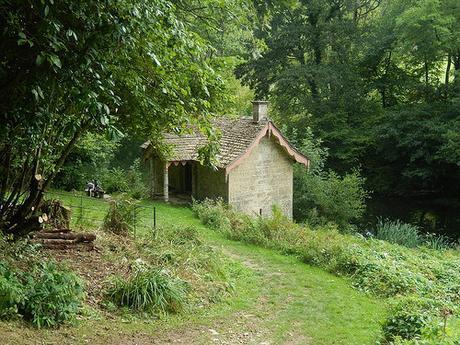 Along the way, we passed the Boathouse.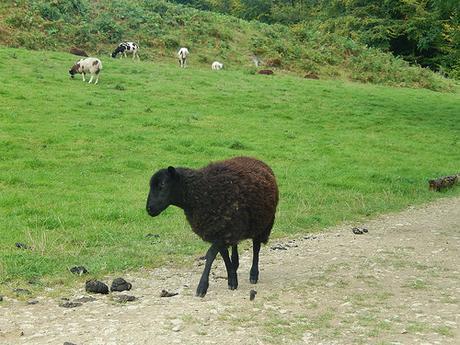 There was a sign advising dog owners to keep their pets on a lead through one section, where Jacob's Sheep were grazing… Not one of us had ever heard of the Jacob Sheep before!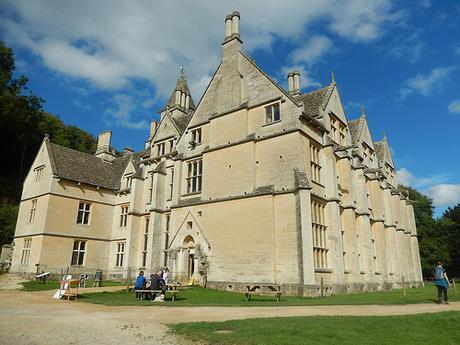 Woodchester Mansion remains unfinished from the 19th Century, when it was constructed.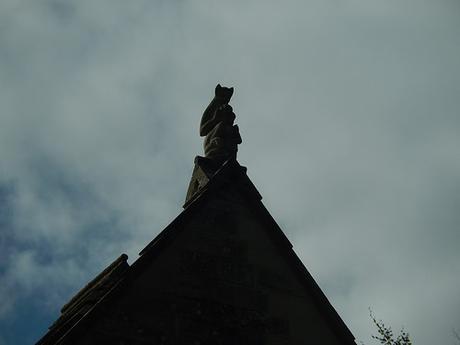 Work was being carried out on the northern exterior, as we passed by. Inside (and beyond the café), you'll apparently find floors and even rooms to be absent.
I wonder whether the National Trust has any plans to complete the interior?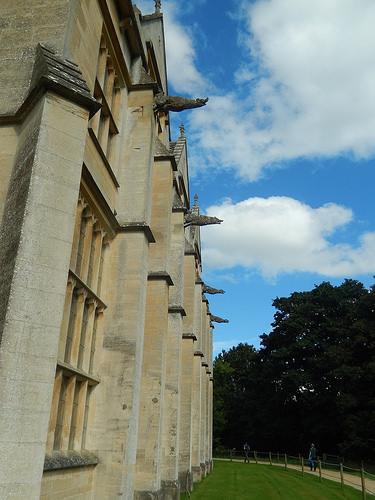 We had our lunch outside of the mansion before a short walk would see us return to the car park at Coaley Peak.
It's been mentioned in the past that, as a Bristol-based group, we don't do enough walks in the Cotswolds. This area alone is great because it offers a variety within a relatively small area – from skyline views and woodland walks to architecture and Neolithic sites.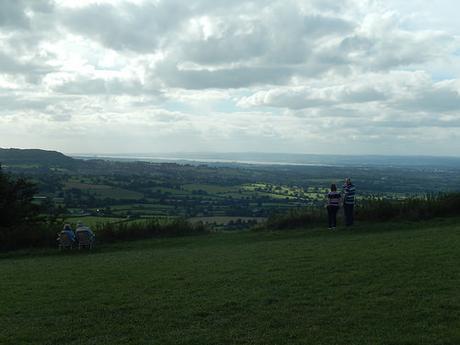 Our walk then concluded with a nearby pub-stop, before the drive home.
Total distance of this walk: 10 miles
Thanks for reading.