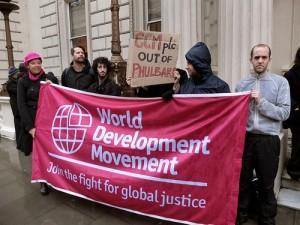 The ongoing climate change talks in Poland have garnered headlines mostly for the lack of progress among nations trying to curb greenhouse gases
There is enough blame to go around.
The U.S. has a dismal record on change — it failed to ratify the Kyoto Protocol back in the 90s. The Australian delegation was reportedly snacking in T-shirts (usually a positive activity, but maybe not appropriate for a UN conference) during the negotiations this week. And meanwhile, Poland is hosting coal industry leaders just down the road from the climate change summit and has put up a barrier for electricity from Germany — a renewables powerhouse.
Coal is a powerful industry in Poland. The U.S. and Australia are also beholden to powerful carbon-intensive industries. And despite the overwhelming evidence that climate change is creating problems around the globe (Hurricane Sandy, anyone? A bigger, badder Tornado Alley, perhaps?), these wealthy nations have much stronger infrastructure and resources to deal with the short-term effects of climate change. NPR even reported on how the National Weather Services text-message alert system saved lives in Illinois over the weekend. Hurricane Sandy was bad, but lower Manhattan was effectively evacuated.
The same can't be said for less-developed areas, which is why recent news out of Bangladesh was striking.
According to environmental news site Monga Bay, Bangladesh is rapidly increasing its dependence on coal, even though the country is one of the world's most at-risk nations for sea levels rising.
In 2010, the government released the Power System Master Plan, which for the first time put forward the goal of generating 50 percent of Bangladesh's energy via coal power by 2030. Such a transition would be extreme: in 2010 coal power made up less than 1 percent of Bangladesh's total energy output. But in less than 20 years the master plan reads that coal should be "the primary energy supply."
This is sad news, indeed. Currently, Bangladesh generates 78 percent of its energy from natural gas, another 17 percent from oil, two percent from hydro, and only three percent from coal.
Bangladesh needs to improve its citizens' access to electricity. Currently, 62 percent of Bangladeshis have access to electricity. But it also needs to improve its water and air quality. Increased coal use — the most carbon-intensive energy source — is not the way to go.
Ironically, Bangladesh was one of the G77 countries who walked out of the climate talks this week over frustration over wealthier countries intractability regarding who would pay for natural disasters.
I understand the frustration of countries that are paying for the pollution sins of others who developed earlier. I wrote last week about the dire situation in the Philippines and how important preparedness is in the face of extreme weather events.
But when these same countries pursue wrong-headed development, they not only make themselves less sympathetic, they themselves are contributing to the very problems we should be trying to curb.