posted by author Charles McCain  www.charlesmccain.com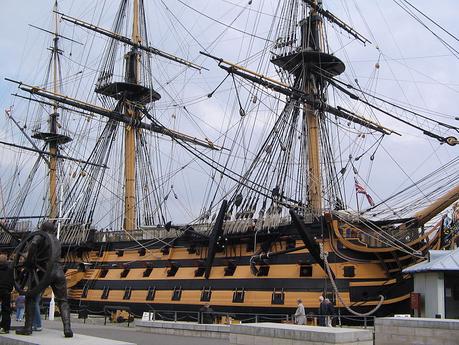 HMS Victory at Portsmouth naval base, 2008
The location of any Royal Navy warship in World War Two was a great secret, as it should have been. All ships had the same address. For example, if you wrote to a sailor on HMS Victory you addressed you letter as follows:
HMS Victory
c/o GPO
London
(that is: care of the General Post Office, London)
Since all Royal Navy logistic and administrative systems were set up to support individual ships, all bases on land were named for ships as well. One was always assigned to a ship. This simple expedient prevented disruptive changes in the system of administration which worked well.
Officers and ratings assigned to the Admiralty or various government officers in London were, and still are, carried on the books of HMS Victory; Lord Nelson's flagship at the Battle of Trafalgar in 1805.
She was built in the Royal Navy's Chatham Dockyard and officially commissioned in 1778 as a first-rate ship of the line carrying 104 guns.HMS Victory was placed in dry-dock at Portsmouth naval base in 1922 where she remains, the oldest warship in the world still in commission. (The USS Constitution is the oldest commissioned warship still afloat)
She serves as the flagship of the First Sea Lord or professional head of the Royal Navy.
Photo of HMS Victory courtesy of http://en.wikipedia.org/wiki/File:Hms_victory.JPG