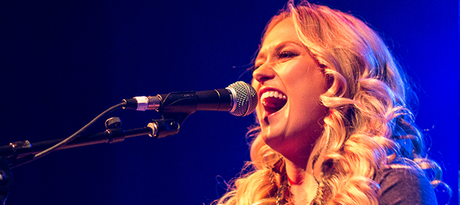 What a difference a year makes...
At CMW 2015 we caught Meghan Patrick at a small showcase at The Supermarket. She was awesome, she turned heads, and we were very happy to see her do her thing. And now, just 12 months later, we've had the chance to see Meghan start to break out with the success of Bow Chicka Wow Wow on country radio, the early returns on her debut album, Grace & Grit, and the response to her Boots & Hearts CMW Hot Shots Showcase set Tuesday night at The Phoenix!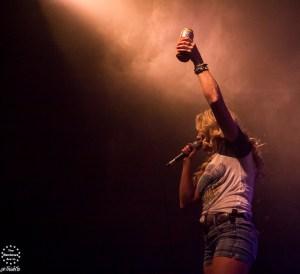 We have to give some big love to the
Boots & Hearts
team for their work with
CMW
to put this show together. It was a great night of country music, and along with Meghan Patrick we got to see Kansas Stone, Dani Strong, the James Barker Band, Eric Ethridge, and headliners Blackjack Billy. And if you were ever wondering if country fans would pack a room on a Tuesday night for a showcase... the answer is yes.
On stage with her full band behind her, Meghan tore into her set right away with the title track of her album, and she had the entire crowd with her as she did it. It was exciting to feel the vibe in the air as Meghan started to play. The country fans at The Phoenix knew that they were seeing a rising star, and an artist that they're going to hear a lot more from in the future.
Meghan transitioned smoothly between loud, fun, fast songs, and her slowed down, sweet, even sad tracks. It was a performance that proved to new fans that she was the real deal with more than just 1 trick up her sleeve. And it was further proof to anyone who already knew that she's well on her way.
As for Tuesday, we heard a total of 7 songs from Ms. Patrick, and while it was excellent, and we were all very happy to have heard them, we would have been really okay with 4 or 5 more!
Meghan Patrick CMW 2016 Set List
★ Grace & Grit
★ Long Way From Waylon
★ Be Country With Me
★ I Believe In Beer
★ Jolene
★ I Won't Drink
★ Bow Chicka Wow Wow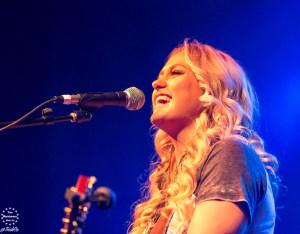 As Meghan and the band worked through the set it would have been hard for anyone to tell that she's in the midst of the first major jump in her career. Meghan worked the stage like a vet, engaging the crowd, not shying away from the spotlight, and putting on the kind of show that will translate well to her festival dates this summer (Boots & Hearts, Cavendish Beach Music Fest, CMT Music Fest, RBC Bluesfest) and beyond.
We've been following Meghan's career for a few years now as she's put in the work and time and effort to get to where she is right now. It's been an exciting ride, one that we know she's happy to be on, and that isn't anywhere near over yet.
Stay tuned, you're going to hear a lot more from Meghan Patrick!