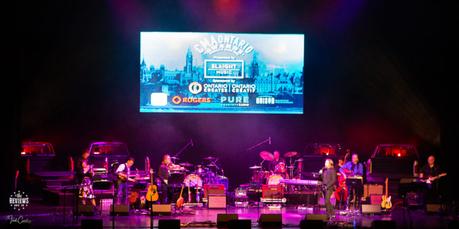 On a gorgeous spring Sunday evening, the Ontario country music community gathered in Ottawa to celebrate artists and industry leaders who are making music across Canada at the 2019 Country Music Association of Ontario (CMAO) Awards!
From the red carpet through to the award show, it was a night of great talent, surprises, lots of celebration, and some fantastic performances.
It was also an opportunity to see some of our favourite humans in the Canadian country music community. The Awards show was hosted again by the inimitable Jason McCoy, grabbing our attention from the beginning by driving a motorcycle across the stage. He delivered humour, respect, and kept everyone fully engaged throughout the show.
This slideshow requires JavaScript.
The Western Swing Authority played house band again this year, and they did a fantastic job.
The big winner of the night was Meghan Patrick, who took home five of the six awards she was nominated for including Songwriter of the Year (along with Kelly Archer and Justin Weaver), Album of the Year, Female Artist of the Year, Music Video of the Year, and Fans' Choice.
New for 2019 was the addition of the Francophone Artist or Group of the Year, and we were thrilled to have winner Gabrielle Goulet perform for us.
We've got photos of winners and performers in chronological order, and if you want to skip to the end to read the winners list first, we won't be mad.
2019 CMAO AWARD WINNERS PHOTOS
This slideshow requires JavaScript.
2019 CMAO AWARDS PERFORMERS
This slideshow requires JavaScript.
2019 CMAO AWARD WINNERS
STEVE & HOLLY KASSAY GENEROUS SPIRIT AWARD
Cadence Grace
RECORD PRODUCER(S) OF THE YEAR - Sponsored by MetalWorks
Richard Hutt - Tianna Woods, My Eyes Are Up Here
Jason Barry - The Western Swing Authority, Big Deal
Jeff Dalziel - Ryan Langdon, Leave Me Right; The Washboard Union, What We're Made Of *WINNER
Karen Kosowski - The Common Cause Collective, Rise Up Redux; Kira Isabella, I Don't Wanna Know, Jessica Mitchell, Heart of Glass; Leah Daniels, The Story
Scott Cooke, Doug Oliver - Cold Creek County, Money
INDUSTRY PERSON OF THE YEAR - Sponsored by Seeds CPA
Amanda Kingsland, Country 101.1
Dave Woods, In The Country
Mike Denney, MDM Recordings
Ron Kitchener, RGK Entertainment *WINNER
Steve Coady, Warner Music Canada
FRANCOPHONE ARTIST OR GROUP OF THE YEAR - Sponsored by Desjardins
Gabrielle Goulet *WINNER
Kristine St-Pierre
Les Rats d'Swompe
Reney Ray
Stef Paquette
MUSIC VIDEO OF THE YEAR - Sponsored by MNP
1st - Leah Daniels
Blaze of Nothing - Kansas Stone
Got Your Name On It - Jade Eagleson
The Worst Kind - Tim Hicks (feat. Lindsay Ell)
Walls Come Down - Meghan Patrick *WINNER
RADIO STATION OF THE YEAR (LARGE MARKET)
CJBX BX 93, London
CJKX KX96, Oshawa
CKBY Country 101.1, Ottawa *WINNER
CKDK NEW Country 104, Woodstock
CKKL COUNTRY 94, Ottawa
ROOTS ARTIST OR GROUP OF THE YEAR - Sponsored by Skelton Truck Lines
Jessica Mitchell
Mackenzie Leigh Meyer
The Abrams *WINNER
The Redhill Valleys
The Western Swing Authority
ALBUM OF THE YEAR - Sponsored by Country 93.5
Country Music Made Me Do It - Meghan Patrick *WINNER
Feels Like That - The Reklaws
Heart of Glass - Jessica Mitchell
New Tattoo - Tim Hicks
The Story - Leah Daniels
GROUP OR DUO OF THE YEAR - Sponsored by Country 103
Cold Creek County
James Barker Band
Johnson Crook
The Redhill Valleys
The Reklaws *WINNER
SINGLE OF THE YEAR - Sponsored by Pure Country 106
Denim on Denim - Tebey
Feels Like That - The Reklaws *WINNER
Little Girl - Kira Isabella
Loud - Tim Hicks
Walls Come Down - Meghan Patrick
SONGWRITER(S) OF THE YEAR - Sponsored by SOCAN
Jason Blaine, Deric Ruttan, Brett Beavers - Ain't Got Growin' Up Down Yet, Recorded by Jason Blaine
Meghan Patrick, Kelly Archer, Justin Weaver - Walls Come Down, Recorded by Meghan Patrick *WINNER
Tebey, Ryan Lafferty - Who's Gonna Love You, Recorded by Tebey
Tebey, Sam Ellis, Elizabeth Elkins - Little Girl, Recorded by Kira Isabella
Tim Hicks, Todd Clark, Gavin Slate, Travis Wood - Loud, Recorded by Tim Hicks
Todd Clark, Jenna Walker, Stuart Walker, Travis Wood, Donovan Woods - Feels Like That, Recorded by The Reklaws
MALE ARTIST OF THE YEAR - Sponsored by ECAO/IBEW
Andrew Hyatt
Eric Ethridge
Jason Blaine
Jim Cuddy
Tebey
Tim Hicks *WINNER
FEMALE ARTIST OF THE YEAR - Sponsored by Spring Tree Farm
Jessica Mitchell
Kira Isabella
Leah Daniels
Meghan Patrick *WINNER
Tianna Woods
COMPASS AWARD - Sponsored by Nielsen
Tim Hicks
IMPACT AWARD
The Good Brothers
OFFICIAL CMAO WINNERS PHOTOS
This slideshow requires JavaScript.