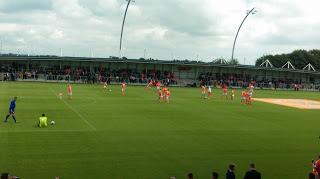 Admiring the view of the countryside from the top row of the stand, I looked at the grey sky. Clouds were gathered in all directions, some dark, possibly bringing a shower. The weather forecast had given a mixed morning with a brighter afternoon.It was edging into mid-afternoon now and I hoped for the brighter bit to arrive, or at least stay dry. I folded my raincoat over my seat, hoping I wouldn't need it and relaxed into the welcome atmosphere of togetherness that I was experiencing. I sipped steaming tea from a disposable cup, enjoying the full, strong flavor and glanced around, taking in my unfamiliar surroundings. Mill Farm, home of AFC Fylde, it was a pleasure to be at this football ground. Everyone, like me, was wearing Blackpool FC team colours. They arrived in groups, in pairs or alone, waving and calling to others they knew. I watched the stands turn into a mass of tangerine and white as people took their places. Greetings, handshakes, embraces, everyone happy, like me. Excited, like me. This was no ordinary football match. No league table, no pressure, no looming metaphorical dark cloud. It was going to be fun, it was special, to give thanks to a legend of the modern game, this was the Brett Ormerod Testimonial.
Clouds were slowly drifting. The gray one overhead looked threatening and I silently begged it not to rain. Not today, please, not today.
The teams ran onto the pitch to a standing ovation and formed a guard of honor for Brett. There was an individual cheer for each player and I was caught up in the emotion as Brett came on to rapturous applause and chants of Super-Brett.
During the match, the clouds dispersed until a few wispy white ones floated high in the blue sky of a warm and sunny afternoon.
Goals, penalties, unlimited substitutions with lots of singing and laughter from a cheerful crowd supporting both teams, Tangerine All-Stars v Dave Challinor's AFC Fylde Select.The result was 5-5, perfectly fitting for the occasion.
This day had been a long time coming but was well worth waiting for. At the end, as Brett first applauded then addressed the crowd from a pitch bathed in sunshine, there was nowhere I'd rather be.
Clouds Over Mill Farm
Clouds have gathered over Mill Farm,
Oh please don't rain until tonight.
Please keep the weather warm and calm
While we're all tangerine and white.
We'd like this special match for Brett
On a day that's sunny and bright
And love and joy we aim to get
When we're all tangerine and white.
PMW 2016
And because I mentioned Brett,
Sea Sea Seasiders 2010
Everything tangerine and white
Fans all meet in great assembly,
Blackpool FC in the top flight,
They've beaten Cardiff at Wembley.
Open top bus in '53,
Everything tangerine and white,
The FA Cup for all to see,
Bill Perry's goal, the town's delight.
Open top bus like '53,
Everything tangerine and white,
The play-off cup for all to see,
Ormerod's goal, the town's delight.
Ollie's team have got the power,
Premier League, a dizzy height.
Blackpool flag atop the tower,
Everything tangerine and white.
PMW 2010
Thanks for reading, Pam.
Email This
BlogThis!
Share to Twitter
Share to Facebook
Reactions: