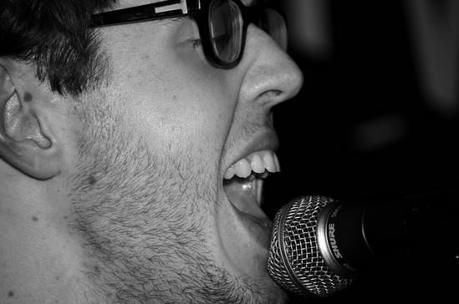 Photo credit: Erica Carpiniello
With the Studio at Webster hall completely packed last Thursday, it seemed as though just about everyone in New York had the same good idea. Considering that this was Cloud Nothings' first NYC show since the release of the universally praised Attack On Memory, no one in their right mind would pass up the chance to see them perform at the beginning of a new album cycle and with some pretty impressive supporting acts.
I've been to about five Cloud Nothings (@cloudnothingsoh) shows, and I'm consistently blown away by how much tighter the band seems each time. Their show last week at the Studio At Webster Hall was no exception. Playing all the songs off Attack On Memory, Dylan Baldi and his crew kept the stage banter to a minimum (just a simple "Thanks for coming," in the middle of the set) and let the jams speak for themselves. "Jams" is not a euphemism either. The four-piece band took several liberties and elongated even the poppiest Attack songs with rocked-out enthusiasm and a determined, cohesive approach to performing. Set highlights included a version of "No Future No Past" that sounded much sexier live than on the recording and an excellent guitar solo by Baldi during "Cut You". They played no old songs, allowing this performance to be the perfect companion to a stellar new album. No one left disappointed.
If I could describe Bleeding Rainbow's (@rainbowbleeding) set with one word it would be "noise," and I'm not entirely sure whether I mean that in a good or bad way. They started loud and used heavy feedback, causing me to retreat to the back of the room for fear of my eardrums. I wasn't entirely impressed, as I couldn't actually discern anything that sounded like a song or melody. After a while, though, the music improved. Between some pretty inventive guitar work and an always-impressive, mid-set instrument swap, they began to play tunes that sounded as though they were aiming to create a pleasant experience. Regardless of my opinion, Bleeding Rainbow was definitely a confident band and the perfect face-melting openers for Cloud Nothings.
Jump Into The Gospel (@jitg) opened up the night. The vocalist vacillates between an agreeable combination of falsetto squeaks and squawks and a deep timbre that is very 1980s. Their songs are guitar-driven with help from Kong keyboards in a supporting role, and the bass lines are very fluid, creating a heel-stomping sound that could certainly turn into something truly danceable once the band gets a bit more seasoned and builds up a solid fan base.