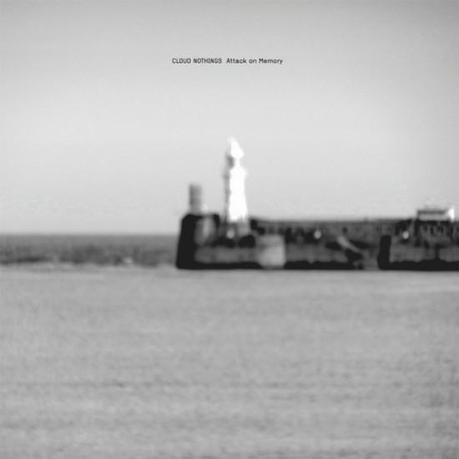 Stay Useless – Cloud Nothings // Buy
No Future/No Past – Cloud Nothings // Buy
Attack On Memory is very appropriately titled. 18-year-old Dylan Baldi exploded onto the scene with irresistibly catchy, lo-fi pop songs only a few years ago, but the growth and progression seen in Cloud Nothings (@cloudnothings) releases since then resembles that of a much older project. Baldi (now 20) has claimed that he wants his second full-length album to be an "attack" on the "memory" that previous listeners have of his music. The result is a fantastic collection of exciting songs from a young musician with a deceptively mature approach to creating albums.
Most noticeably, Attack On Memory shies away from the "pop" label that Cloud Nothings has been branded with since the beginning. The opening track "No Future/No Past" begins with minimalistic piano and eventually evolves into a dark, mysterious romp with heavy guitars that support Baldi's desperate, repetitive vocals. There's nothing remotely catchy about this, but the confident playing and unabashed rawness of the song make it extremely enjoyable. It's almost refreshing to hear a track that makes no apologies for insanely rocking out in the purest form. This trend continues into "Wasted Days", an 8:52 marathon that includes Baldi's signature penchant for hooks with the repeated, soul-crushing line "I thought I would be more than this" and a healthy jam session that pierces through the middle of the track.
Other album cuts that follow this new direction include the driving, almost spooky "No Sentiment" (the song that includes the "attack on memory" lyric) and the completely instrumental "Separation". As the album progresses, Baldi's signature pop sound makes an appearance within some of the newly roughened up songs. Tracks like "Fall In",  "Stay Useless", and the closing pair of "Our Plans" and "Cut You" hearken back to a greener Cloud Nothings, but their recording techniques give them a polished sound that solidify their spot on Attack On Memory.
Recorded by the great Steve Albini (of basically every excellent album ever), the methods used to capture the Cloud Nothings sound on Attack On Memory are more sophisticated and professional compared to the bedroom-style systems Baldi employed in previous releases. As such, they reveal the subtle nuances and more advanced instrumental talents of the band that were difficult to distinguish before. Of course, this can also be attributed to the fact that this current incarnation of the band has been playing together since the beginning of last year. When personalities have been allowed to lubricate with each other, the performances and writing generally seem more self-assured. The individual band members are allowed to shine in their respective instruments here, whereas Baldi had previously recorded all the parts himself. While that didn't detract from the charm of older Cloud Nothings songs, the innovative guitar riffs and impressive drum skills on Attack On Memory add layers to the songs that are completely new.
It's really difficult to find something, anything, wrong with this album. Perhaps the only complaint I have is that it's a bit short. At 8 tracks and clocking in at less than 35 minutes, it's barely a full-length. Under no circumstances, however, does that mean that Attack On Memory is not a fully realized, clearly conceptualized work. It solidifies Cloud Nothings as a band that isn't afraid to take chances and shake things up.