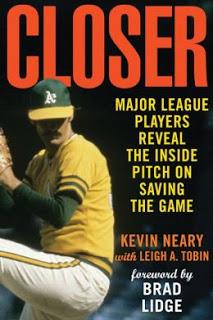 Just finished reading an interesting book called "Closer: Major League Players Reveal The Inside Pitch On Saving the Game" by Kevin Neary and Leigh Tobin, authors of "Major League Dads."
The authors chatted with and about baseball's closers from throughout the history of when the position of closer came to prominence: from the early ones like Elroy Face and Jim Konstanty, when the role came to more note like Rollie Fingers, Tug McGraw and John Hiller, to when it became a one inning standard today like Craig Kimbrel, Mariano Rivera and Jonathan Papelbon.
Each closer tells how they got the role and how they embrace it. Some were groomed to be closers from the beginning of their professional career, but many becoming a closer was a savior of the career, and others just fell into it. But the book makes it clear that those who are a part of it feel they are a part of a fraternity.
"Closer" ranges from the humorous (Al Hrabosky, Mitch Williams), to the tragic (Donnie Moore), to the ones with short careers (John Rocker, Eric Gagne), to the future Hall of Famers (Rivera, John Smoltz, Trevor Hoffman). It's interesting to hear from the 1970s closers like Goose Gossage and Fingers, who would regularly throw more than one inning to get a save. I got the impression from them that being a closer back in the old days was a lot tougher, and the age of specialization has made the current closer an easier gig.
The book also centers around the mindset of the average closer. Most talk about the short memory a closer must have, and how they are a close knit group. Papelbon thanks Rivera for picking his brain after he got the Red Sox closer. "You have to have a short term memory", he told Pap.
Brad Lidge does the forward, and it's a comprehensive history of one of baseball's toughest positions, in the words of the men who do the job themselves. The book is available now through Running Press Publishers.