The CLL Society, LLS and the Cleveland Clinic are hosting a Patient and Caregiver Forum on Nov. 11. It is going to be a super educational experience with CLL expert Dr. Hill and others from the Cleveland Clinic there to answer all your questions. Bruce Wright is an amazing patient speaker and I'll be sharing what I have learned about self advocacy. 
Hope to see you there. Here is more information and a link to registration: 
https://cllsociety.org/docs/2017%20Cleveland%20CLL%20Educational%20Forum%20-%20Final.pdf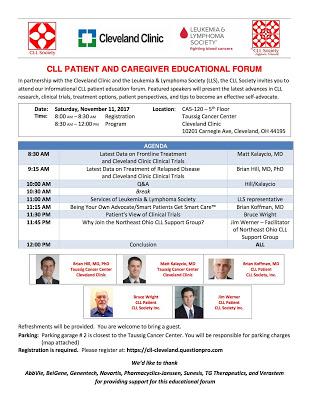 If you want a personal response, or just want to stay in touch, please email me at
[email protected]
I have no other way of contacting. Thanks. Stay strong. After all, we are all in this together. And please visit our website: http://cllsociety.org for the latest news and information.