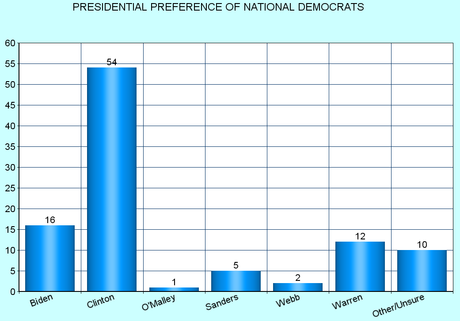 It shouldn't come as any surprise, but Hillary Clinton still holds a dominant position in the race for the Democratic presidential nomination. In this latest national survey, she holds a majority of 54% of Democratic votes -- 38 points better than second-place finisher Joe Biden, and 42 points better than Elizabeth Warren.
These numbers have to be discouraging for those organizations (Move On and Democracy for America) who have diligently been trying to drum up support for trying to get Warren to change her mind and run. Her number is only about 12% (and has been in the 12% to 16% range for several months now). It seems that most Democrats have taken her at her word, and don';t believe she wants to be a candidate.
But the more important numbers are in the chart below -- where voters were asked to choose between Hillary Clinton and the current leading Republican hopefuls. Clinton tops all of them by between 7 and 10 points -- a significant margin. There's still a long way to go until the next presidential election, but these numbers are very encouraging -- especially when you consider Clinton is likely to coast to the Democratic nomination, while there will be a political war for the Republican nomination (a war that could further weaken the GOP candidate).
Both of these charts were made from a new Public Policy Polling survey -- done between February 20th and 22nd of 691 registered voters nationwide (with a margin of error of 3.7 points). The margin of error for Democrats only is about 5.6 points.