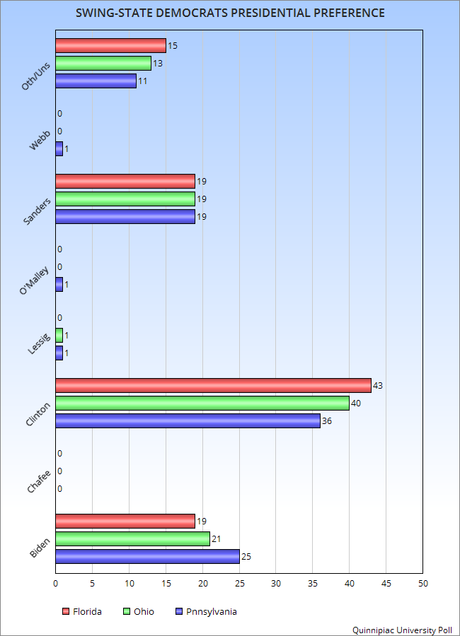 Bernie Sanders is doing very well in his neighboring state of New Hampshire (and possibly OK in Iowa), but he's having difficulty getting any traction in the other 48 states. I have recently brought you the presidential preferences of Democrats in some other states (like Texas, Maryland, South Carolina, North Carolina, New York, etc.) -- and they all show Hillary Clinton with a substantial lead over Sanders.
Now a new poll has been released showing the preferences of Democrats in three "swing states" -- Florida, Ohio, and Pennsylvania. It is the Quinnipiac University Poll -- done between September 25th and October 5th. They questioned 411 registered Democrats in Florida (moe of 4.8 points), 396 registered Democrats in Ohio (moe of 4.9 points), and 442 registered Democrats in Florida (moe of 4.7 points).
This new poll shows what polls have shown in other states -- that Hillary Clinton has a significant lead over Bernie Sanders in all three states (see chart above). In fact, Sanders didn't even reach the 20% in any of the three -- scoring 19% support in all three states. Clinton has a 24 point lead in Florida, a 21 point lead in Ohio, and a 17 point lead in Pennsylvania.
The chart below shows what the numbers look like without Joe Biden being considered (and he is not a candidate -- at least not yet). Not that without Biden, Clinton numbers top 50% in all three states -- about twice the support that Sanders draws.
This makes next week's debate critical for Bernie Sanders. He needs to score a big win to get his campaign going again -- since he seems to be stuck in the mid-twenties (or less) in most states. Can he do it? It'll be interesting to see.