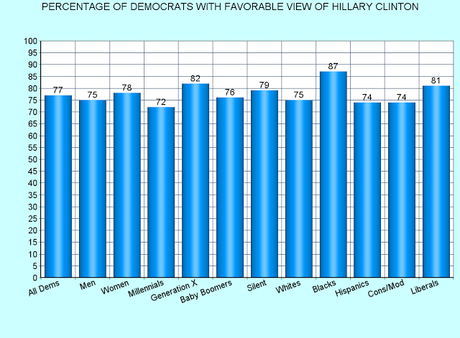 The Pew Research Center just did a survey to see how the parties viewed their top candidates -- and Hillary Clinton came out smelling like a rose. It not only turns out that 77% of Democrats view her favorably -- but that holds true across all demographic groups. Perhaps most depressing for her biggest opponent (Bernie Sanders) is that 81% of Democratic liberals view her favorably (since he must do well in that group to be a credible candidate).
They also asked Republicans how they viewed their top candidates. None of them topped 55% in favorability. That means this is probably going to be a tightly contested presidential contest among Republicans (unlike Democrats, where Clinton still looks very strong).
The survey was done between May 12th and 18th of 636 Democrats and 506 Republicans. The margin of error for Democrats was 4.5 points, and for Republicans was 5 points.