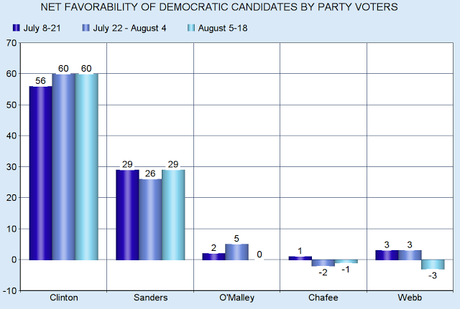 These charts do not reflect those who say they are supporting the candidacy of any particular candidacy. It simply gives us an idea of how each party's voters view the presidential candidates in their party. It gives us the net favorability of the candidates (their favorable percentage minus their unfavorable percentage.
For Democrats, Hillary Clinton is still viewed more favorably by Democrats than any other candidate. Her net favorability rating is 60%, and the "problems" quoted by cable TV pundits in the last couple of weeks don't seem to have affected that rating at all. That puts her rating about 31 points ahead of Bernie Sanders (who seems to have leveled off at about 29% net favorability. It will be interesting to see what happens to the net favorability ratings of both candidates after the first debate in early October. Just guessing, I expect Clinton's rating to remain high, and Sanders' rating to climb somewhat (as more people get to know him).
The net favorability ratings of the Republican candidates is in the chart below. Of interest is the fact that for both of the "leading" candidates (Trump and Bush) have a net favorability that puts them in the middle of the GOP candidate pack -- with Bush at 27% and Trump at 17%. The most favorably viewed candidates are Carson (51%) and Rubio (44%). Right behind them are Huckabee (39%), Walker (37%), Fiorina (37%), and Cruz (35%).
Graham, Pataki, and Gilmore all have a negative net favorability rating -- and I'm wondering if they can even survive to early 2016, when the voting begins. Also viewed very poorly by Republican voters are Santorum (9%), Christie (8%), and Paul (6%). If those three candidates can't find some support in the next few months, they aren't going to last very long either.
The net favorability numbers are from a recent Gallup Poll. The survey was done between July 8th and August 18th, and the sample size for each Democratic and Republican candidate was about 3,000. The survey had a margin of error of about 4 points.