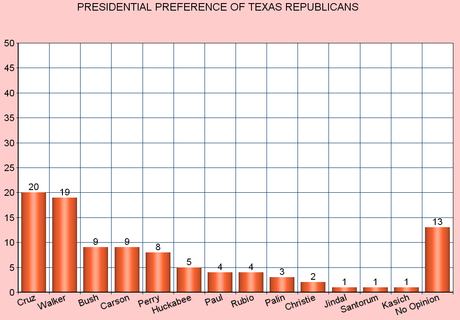 A new University of Texas / Texas Tribune Poll has been released. The survey was done between February 6th and 15th, and has a margin of error of 2.83 points (with only Republicans having a margin of error of 4.19 points and only Democrats having a margin of error of 4.89 points). They questioned 1200 Texas adults (including 547 Republicans and 401 Democrats).
The survey didn't have any surprise when Democrats were queried on their current choice for a presidential candidate. Like Democrats in all other states, Texas Democrats are firmly supporting the candidacy of Hillary Clinton. She is the choice of 62%, while Elizabeth Warren (who has repeatedly said she won't run) is 50 points behind at 12%. Joe Biden is third with 6%, and Independent Bernie Sanders draws 5% support.
The two Republicans getting the most support (although far from a majority) are Ted Cruz (20%) and Scott Walker (19%). Cruz's showing is not a surprise, since Texas has a lot of teabaggers in the GOP base. But the support for Walker is somewhat surprising, and it shows he is becoming a real player in the GOP race for the nomination. Also somewhat surprising is the very poor showing of Jeb Bush (9%), in a state where his family has been very popular.
In a different part of that same survey, it seems that Texans may not be as far from supporting marijuana legalization as some think. Note in the chart below that a plurality of Texans (42%) would support, in at least small amounts, the legalization of marijuana use by adults, and another 34% say it should be legal for medical use. Only 24% of Texans think marijuana should remain illegal completely.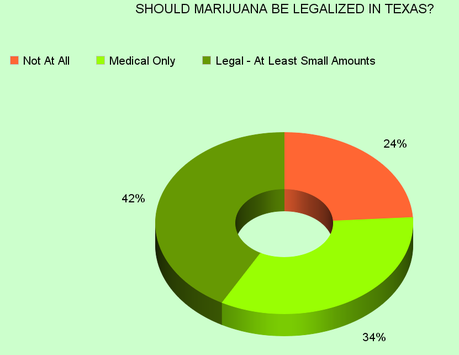 But while the views on marijuana are becoming more lenient, the view of Texans on the death penalty is not (see the charts below). A whopping 75% think the state should retain the death penalty, while only 19% oppose it (and 6% are unsure about it).
And the really scary thing is that 59% of Texans believe innocent people are executed by the state at least occasionally (and another 29% says it happens, but only rarely). That's 88% of Texans who accept the fact that the state executes innocent people at times -- and yet they want to keep on doing that.
We Texans are obviously a bloodthirsty lot -- willing to kill innocent people to satisfy our lust for killing. Frankly, I am appalled and ashamed at the lack of caring my fellow Texans display about the execution of the innocent.