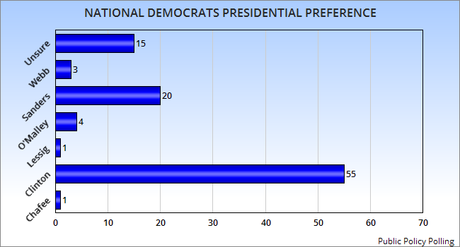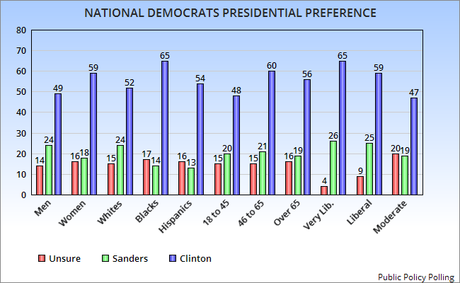 These figures are from the latest national poll of Democrats and Republicans on their presidential preference. It was done by Public Policy Polling between August 28th and 30th. They queried 545 Democrats (4.2 point margin of error) and 572 Republicans (4.1 point margin of error).
Hillary Clinton still has a large lead of about 35 points (55% to 20%) over Bernie Sanders, who is in second place. Sanders continues to draw large crowds, but that has not yet translated into national support that should trouble Clinton. The second chart above shows the support of each candidate among the various groups. Suffice it to say that Clinton has large leads among all the groups.
Among the Republicans, Donald Trump still has a significant lead. He leads Ben Carson by 14 points (29% to 15%). That's not nearly enough to assure Trump will win, but Carson seems to be his only competition right now. No other GOP candidate could even make it into double-digits. The question on my mind is what's going to happen when some of these candidates start dropping out. Will Trump get their support, or will others get it (causing them to rise and challenge Trump)?