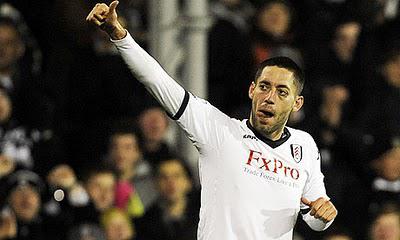 By: Brandon Whitfield
On March 19th, Clint Dempsey became the first American player to ever score 10 goals in the English Premier League.  Dempsey bested former Fulham captain Brian McBride's record of 9 goals in the league.  Dempsey also has become the highest single season scorer at Fulham since club was promoted to the Premier League in 2001.  Let's take a look back at some of Dempsey's best moments at Fulham.
Dempsey was purchased by Fulham in January 2007 for 4 million dollars.  At the time, the most money ever spent on an MLS player.  In the penultimate match of the season, Fulham needed a win against Liverpool to avoid relegation.  Dempsey came on in the 54th minute and scored his first ever Premier League goal in the 69th.  This was one of the most important goals in the history of the club.
Two years later, Dempsey, now a regular starter, had his coming out party against Chelsea at Craven Cottage.  Dempsey put Fulham on the board first with a nice flick past Cech in the 10th minute.  Frank Lampard scored two in the second half and it looked as if the Blues would secure the 3 points.  That was until Dempsey beautifully headed in a cross in the 89th minute that sent Craven Cottage into a frenzy.  That season Fulham finished an impressive 7th and qualified for the Europa League.
On January 5th, 2010 Fulham traveled to the Britannia to face Stoke City.  Down 3-1, Dempsey hit a ridiculous 30 yard volley to make it 3-2.  The ball was flicked forward by a Fulham player and took one bounce before  Dempsey hit it viciously off of the volley.  The ball dipped wickedly and beat the Stoke keeper.  Fulham ended up losing the game but that was one of the best goals of the 2010 season.
In 2010, Fulham was making a incredible run through the Europa League.  In the round of 16, the Cottagers faced off with Italian giants, Juventus.  Fulham's European run looked all but over after losing the 1st leg 3-1 in Turin.  In the 2nd leg, Juventus scored first with a David Trezeguet goal in the 2nd minute.  Fulham made a furious rally with a Bobby Zamora goal in the 9th minute and 2 Zoltan Gera goals leveled tie.  The game looked destined for extra time until Dempsey scored a ridiculous chip from the outside corner of the box that sailed over the Juventus keeper's head.  This goal was the most memorable and most important goal of Fulham's improbable run to the Europa League Final.
I think Clint Dempsey serves as an ambassador for American players in England.  He is not looked at as a good American player; he is just looked at as a good player.  He has improved every year at Fulham and has become arguably their best player.  I salute Dempsey and hope he continues his great career at Fulham.