Clinique are popping all over the place right now! first was the cheek pop and now are the newly released lip pops. I am a big fan of a bold lip and these are certainly bold.
I was sent across two shades - Wow Pop and Cherry Pop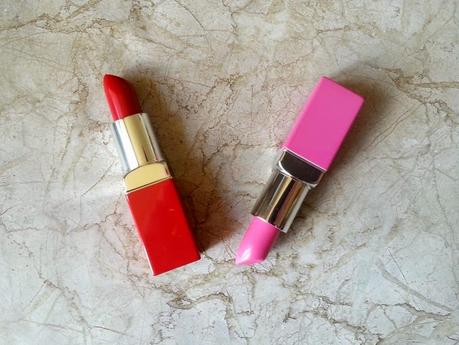 'Wow Pop' is a bright barbie girl pink and 'Cherry Pop' is a classic red. Being a bit of a red lippy fan, I prefer the Cherry Pop one, the pink one is a little bit 'out there' for me but I am all for pushing the boundaries when it comes to trying new beauty products so this will definitely get worn throughout summer.
The products consistency is really creamy and moisturizing as it acts as a primer as well as a lipstick. It glides onto the lips without clinging to any dry patches and it feels a little bit like a lip balm initially. Once it settles on the lips, it still feels moisturizing, but weightless. It almost feels like you put moisturizer over your lips in the morning and there's a little bit of residue left in the afternoon. Probably a strange analogy, but that's genuinely how it feels.
In terms of lasting power, this lasts quite a while but definitely would need topping up if you had a drink or something to eat to keep it's vibrancy.
In regards to the "primer" aspect - I'm not really sure how a bright pink lipstick can act as a primer - a primer of what? what else would you put on top of this? for me, this part of it is a little bit gimmicky.
Overall, I'm a fan of the Clinique Lip Pops, but I'm not sure how I would feel about using this in a nude or neutral shade. This product for me is definitely made for a bright color. Go bright or go home and all that.

Have you tried these out? Would you recommend using a lip liner first? I'd love to hear your thoughts!