by Conroy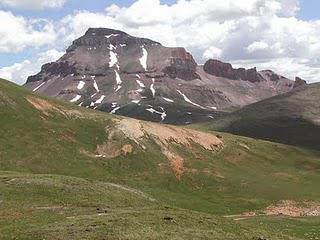 Uncompahgre Peak
A few days ago I summited one of the tallest mountains in the continental United States. It was one of the hardest things I've even done.
I wrote last year about
my plans
to climb
Mount Kilimanjaro
, the iconic mountain whose peak (at 19,400 above sea level) dominates the African savanna. In preparation, I wanted to climb one of Colorado's
Fourteeners
(a peak that stands more than 14,000 feet above sea level), to get a feel for high altitude hiking, including significant elevation changes and exerting myself in thin air.
My aunt and uncle, who built a home in western Colorado, have experience with climbing Fourteeners. They suggested that we climb
Uncompahgre Peak
(pronounced un-com-padre, and not "unpronounceable" as I had dubbed it), which is the sixth tallest mountain in Colorado at over 14,300 feet. The climb is reasonable for novices, such as myself, because it lacks technical sections like steep rock scree, ice fields, or genuine rock climbing. All I would need is my hiking boots, poles, and a lot of water. We would make the ascent in July when the mountain passes would be open and the weather warm. It sounded like a good plan to me.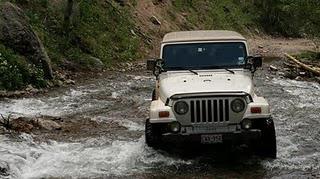 Jeep on Nellie Creek Trail road
Unfortunately, Uncompahgre Peak is not easily accessible. On the day of the hike, we (me, my aunt, uncle, and their Golden Labrador) set out before dawn to drive the roundabout two-and-half hours to the base of the trail road that led to the start of the hike itself. The heavily eroded trail road was passable only to four-wheel drive vehicles and we took an adventurous and very bumpy four mile ride along Nellie Creek. We had to take our rented Jeep across the surging stream (it has been a snowy and rainy year) a couple of times, negotiate several narrow switchbacks, all the while climbing from 9,000 feet to 11,000 feet. After half and hour we were at the base of the hike. It was 8:30 AM. Our goal was to reach the summit by noon to avoid the afternoon thunderstorms that tend to form over the western Colorado
Rockies
during summer. To make it in time, we would have to move quickly. The summit route was about four miles long and a general rule of thumb holds that uphill mountain hiking proceeds at about one mile per hour.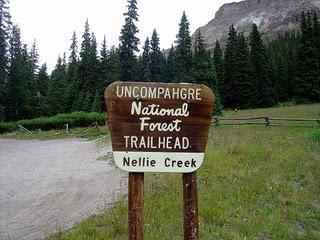 We started in beautiful alpine woods. I was full of energy and excited about the challenge ahead. At this point, the peak was not visible. After less than half a mile, we emerged from the tree line into alpine meadows under brilliant sunshine. The peak appeared toweringly before us; looming nearly 3,000 feet overhead. I felt good, this was the highest I had ever been, but I noticed that the steeper sections caused me to take deep breaths and my heart rate to skyrocket. I took frequent breaks to let my breathing and heart rate settle. I was drinking plenty of water, but I had no appetite. We continued through the meadows, slowly working our way uphill all the time with the peak before us. We had to cross multiple snow patches, an indication of just how much snow fell during the past winter. By 10:30 AM we had reached the steeper section of the climb. At that point we passed three hikers who were descending from the summit. They gave us an estimate, an hour and a half to the top, and a warning, rain clouds were forming in the distance. I could see the clouding and knew we needed to hurry to beat the weather. That's when things got really tough.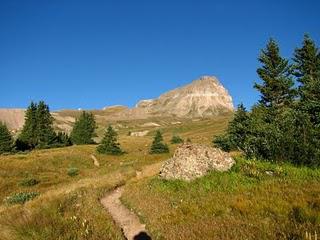 Emerging into alpine meadows
An unsettling realization was settling in my mind. Hiking at these elevations was really difficult, during exertions I could feel my heart beat in my throat, and we had the hardest sections, at least 2,000 more feet of vertical climbing before us. More worryingly, I was starting to feel lightheaded. Nevertheless, I was determined to push on; I came to climb this mountain after all. Also, I was leading the group (along with Robby the Labrador), so I knew I was holding up okay.
We pushed off the meadow and onto the the steeper section along the south ridge. The wind was picking up and the temperature was markedly colder, but the clouds were holding off and we continued under sunshine. The views became spectacular as we slowly rose above the surrounding topography. The snowy peaks in the distance were juxtaposed with the deep valleys that lay below the ridges. At one point, I walked near the edge of the ridge to stare over a shear cliff hundreds of feet tall. I could see the clouds depositing rain on the nearby mountains.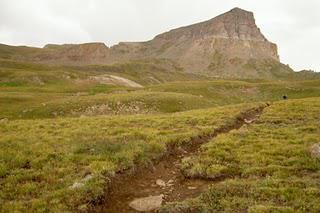 Middle of the meadows
At this point I was almost certainly suffering from mild
altitude sickness
. I was breathing heavy, my heart was racing, I was light-headed and dizzy, and I was starting to get queasy. Perhaps for the first time real doubt entered my mind, but I put those thoughts aside. My legs were good, my thinking was clear, and I wasn't going to quit. My aunt, a nurse and experienced in noticing altitude-related ailments, asked how I felt. If I told her the truth she wouldn't have let me continue. I answered, "good," and we continued. At this point we left my uncle so we could go as fast a possible, we had reached the steepest point of the hike, the rock field that surrounds the summit. We heard thunder in the distance. There was little time to spare. We determinedly pushed ahead. At this point we were passing other hikers coming from the summit. Yes we were getting close, and yes the weather was closing in.
By now I couldn't go more than a minute or two without having to stop and catch my breath and let me heart rate calm down. We passed the last group descending from the summit. We then entered an extremely difficult section of steep loose rocks that ranged from the size of a basketball to the size of a small chair. If you can believe it, Robby the dog was still there with us, scrambling over the rocks. So were my aunt and I. We needed to use our hands and feet to take every step. I was afraid of upsetting rocks and sending them tumbling towards her below me. We both realized that this was wrong, we must have lost the trail, but by now we just needed to push on and get above the rock field.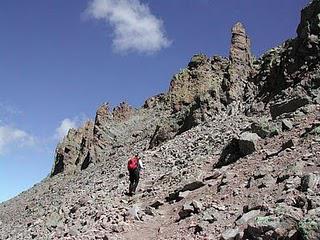 Rock field below the summit
It was nervous going, feeling each handhold and foot placement to make sure it was solid, but we were making progress. As we got above the loose rock I was gasping for air, nauseated, and dizzy. But we had made it (including the dog!). One hundred more yards and we stood on the summit. We'd conquered the mountain. We stood around and gazed at the meadows far below. And at the rain clouds all around us. We took a few pictures and a few minutes to rest. At that point a lightning bolt struck only a few miles away. We were the highest point on the highest mountain in the region, not the place to be in a thunderstorm. The wind picked up significantly and the air grew downright cold. We quickly threw on ponchos and headed down.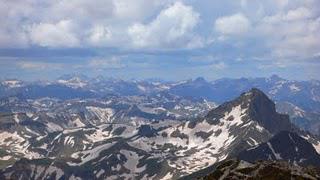 View from the top of Uncompahgre Peak
Not more than a minute later it started raining and hailing on us. We didn't learn our lesson and took the same treacherous path back down through the rock field. It may have been more precarious on the way down. Indeed I took a minor tumble and needed to be careful in getting up to avoid slipping further. The wind, rain, and cold caused my exposed hands to go numb. My only thought was to get down away from the lightning and into thicker, warmer air. I wanted my nausea and dizziness to go away. We rejoined my uncle below the rock field and the dog and I started descending in earnest. This is where my fitness served me well. I had strong legs and was able to take the steep descent with relative ease. I was down to the meadows before I stopped to take a break and have part of a sandwich, the first food I'd eaten since breakfast eight hours earlier.
I continued with the dog. My aunt and uncle followed several hundred yards behind. I felt better, the sun came out briefly, it was warmer. However, the changeable mountain weather doused us with heavy rain as we left the meadow for the woods and got back into our Jeep. If possible, the ride back down the Nellie Creek Road was even bumpier and it certainly seemed longer. Once we pulled off the road I was relieved, proud, and exhausted. My uncle suggested a different route out of the mountains; I didn't realize we were about to take the most harrowing drive of our lives, but that is a story for another post.
---
My uncle asked me later how this experienced might affect my view of climbing Kilimanjaro. Here are a few thoughts on what I learned and what I would do when hiking in high mountains, including Kilimanjaro in the future.
I arrived in Colorado on Sunday evening and spent the night at about 6,000 feet in elevation. On Monday we hiked some at about 8,000 feet in elevation. On Tuesday we climbed Uncompahgre. That's probably not enough time to acclimatize. My sea level lungs are not used to any elevation. At the start of the hike I was 11,000 feet higher than what I'm used to. In the future, I would definitely take more time to acclimate to higher elevations. I'm sure this would have reduced the various altitude-related symptoms I felt in the mountain.
 Under ideal circumstances I would have paced myself, ascending slower. That would have been less stressful on my body and allowed me to keep my breathing and heart rate lower. Unfortunately, we were racing the weather. An earlier start would have helped, but the remoteness of Uncompahgre made that difficult.
 I drank about three liters of water - my entire Camelback - during the six hour hike. That is good. However, I barely ate, and that is bad. Certainly I was putting out a lot of energy and I was not keeping my body nourished. I know from bicycle riding and other activities that you must eat during long physical exertions. My nausea and general discomfort left me with no appetite, but I should have forced myself to eat something.
Finally, we went as a group and were able to watch one another during the hike. This is critical. We were out in the wild and a fall, altitude sickness, equipment issues, or other calamity could have been very bad had I been alone (and there were solo hikers on the mountain). I was happy to have the experience of my aunt and uncle with me.
So despite my difficulties with the altitude, I think I can climb Kilimanjaro. That expedition will include many days of slow climbing to acclimate to the high altitude. I'm sure I'll also want to climb another 14er...but one more accessible by road.