★★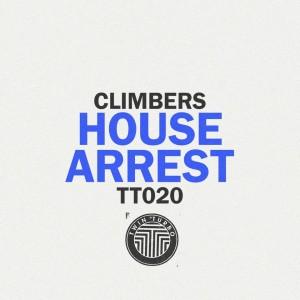 "It's so simple, it's genius" is the phrase which stuck in my mind when reading the description of Mexican duo Climbers' brand new single 'House Arrest' on Turbo Recordings. The whole track seemingly unfolds after 16 seconds. A pleasant pumped up bassline hook over a steady 4×4 beat carries the song for more than five minutes with hardly a touch of varied progression. A siren which breaks out over the deep stretched vocals, as synthetic sounds echo underneath, doesn't do a lot to entice as this rather clean and soft Techno/Tech house track rolls out. Simple? Yes, Genius.
Kolombo however, a Turbo favorite provides a rather defined twist on the original with his remix.  A punchier snare lightens up the track with slight distortion, the vocal sample gets transposed and altered as it repeats over conga percussion, while the siren is used in parts as a more tension building tool, as it loops over the beat on the breaks, eventually leading the drop into a heavy jacking groove.
House Arrest doesn't leave a long-lasting impression. Sounding more like something you are likely to come across on a Hot Creations Compilation Album than Turbo, however, I can imagine this hotly tipped duo have a lot left to show.
By Jonathan Hill
Turbo Recordings | October | Format: digital