I am really enjoying those comfortable Red Sox wins again.
This time it was a 6-1 victory over the Seattle Mariners at Fenway, with Jon Lester going all the way. He retired the first eleven hitters before allowing an infield single to Ichiro Suzuki. The shutout disappeared with two outs in the ninth. It was Lester's best outing of the season since the opener in Detroit. He struck out 6, didn't walk anyone and it was his first complete game win since 2010.
The Red Sox pitching is really hot right now, having allowed just three runs in the last three games. And that's four straight wins.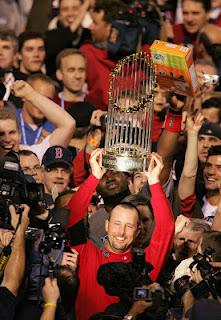 Daniel Nava hit a two-run homer into the Monster seats, his first dong since the grand slam he hit on the first pitch he saw back in June 2010. And Kelly Shoppach hit a bomb across the street for his first home run in a Red Sox uniform.
The Red Sox have a 4:05 PM start to end the homestand, and weather permitting, will be honoring one of the classiest gentleman to ever wear a Red Sox uniform.
Number 49.