I confess to not knowing what a "Clerihew" was. So after reading some of this week's contributions I looked it up.
Interesting and just my type of ' thing'. Take a person's name (usually someone of importance, or known personally to the writer). Make sure that the name is at the end of the first line of poetry...then the second line must end with a word that rhymes with the name. Followed by two further lines ending with a rhyming word. Plus it must be amusing.
So it was that I knew I already had a poem like that. However my piece was short by two lines. So it is that this evening I am putting on my thinking cap to come up with the requisite number.
What I shall do (hopefully) is write out what I have (I'd written out in lines of two...not four as required )... then I shall write the added lines in italics (if I can!)
Then the amusing part is that none of it is true. It was a ' play on words' using the name of my dance partner ...who, I might add, is well over 80 years of age, and my own shortened name. Thus I'd almost written a " Clerihew" without knowing!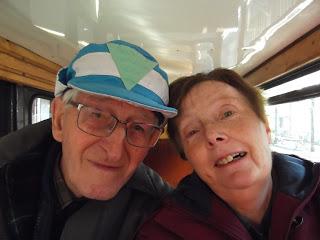 So here goes...
A Clerihew for you
Kind and gentle Donald Dixon
Met with Kate - the little vixen.
Kate was soon to discover
That Donald was an ardent lover.
So Donald Dixon, ardent lover
Took Kate home to meet his mother.
But his mother was not delighted,
Saying "Don your life is blighted ".
Now kindly Donald, gentle lover,
Wed with Kate ...expectant mother.
Kate she bore a son, first child
Who was gentle, meek and mild.
A year it passed and Donald caught her
And this time Kate she had a daughter.
This lovely daughter...second child
Was rough and tough and rather wild.
Thus Don's mother was proven wrong
Their life together was happy and long
As kind and gentle Donald Dixon
Spent years with Kate..a now tamed vixen.
I do hope you've enjoyed my few lines...which I trust is a "Clerihew"...
Thank you for reading...  
Email This
BlogThis!
Share to Twitter
Share to Facebook
Reactions: