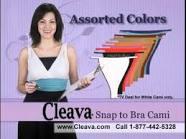 Cleava
:
La
dies be in control with comfort and confidence while concealing your cleavage
or creating a layered look in a cool clever way!



In the fashion industry Cleava snap on bra mock camisole is also known as the following: partial camisole, undergarment, cleavage cover ups, modesty panel, mock camisole, detachable camisole, chemisettes, chemise, fake camisole, faux camisole, flauge cami, secret camisole, cami insert, tinny tank top, bra camisole and a dickey.

Need we say a thong! (G-string) for the bra; due to its shape!




Cleava snap on bra mock camisole was designed by a woman for women, to hide the décolletage area it can be instantly removed or placed on, allowing the user the freedom to expose or conceal her cleavage, depending on the occasion or environment. Go from work hour to happy hour (Corporate to Casual), no need to fully undress - go from conservative to sexy in seconds!


 

I was sent the Cleava in (Color) Nude on Nude and (Style) Lady Lace Corso. I'm sure you are like me, as soon as something his the market that makes our lives even a little better, you snatch it up and don't care on the price. I have learned my lesson on getting the first thing I see. I have tried other "boobie coverages" and they were a big flop. I won't name any names.. But you can get them anywhere. I'm a very conservative person, I have curves, but I don't like to show them off to everyone that looks. You can often see me wearing a spegetti strap top under my V-neck tops and dresses, because I don't like that my cleavage shows. But wearing a top even a thin spegetti string top under a dress or shirt gets pretty hot.. and I hate sweating, getting sticky, and stinking. So when these products came out I couldn't wait to try one. One became another, and another, because I was so disapointed on the fabric, the size, or they just straight up bunched, or un-snapped at the worse moments ever.
 The
Cleava
has become my number one staple for my bras. I stopped going to the bra selection and checking the new products simular to this, and I have retired my spegetti straps for night shirts. I love the soft lace of the Cleava, and how easy it was to use. My husband thanks me for not making him have to fuss helping me put the "other" pain in the butt products also. In three fast simple steps, I was able to get it on without any problems. I love how femmine the Cleava looks, it doesn't look tacky, and you can go from day to night in just a couple of snaps. One of the most important thing about the Cleava is, It doesn't itch while wearing it. I was able to pull off the "Layered" look even without wearing a V-neck top, which was very important to me. The cleava fits almost any bra, iff you are a new mom, and are breastfeeding, this would be a god send for you. I love all the different Colors the Cleava has to offer, so you can mix and match with an outfit, or just not get bored with the same colors, best of all, the prices are amazing! starting at just $19.95. The Cleava was so easy to wash, there was no hand washing involved (Phew!).. Machine was cold with like colors, Only NON-Chlorine bleach when needed, tumble dry low, remove promptly, cool iron when needed, DO NOT iron main label. 92% Polyester, 8% Spandex. Boobies around the world will thank you for their very own Cleava.
Want a Cleava? with this FREE shipping code, you are one step closer. -  
FSLK
(Minimum Order amount of $50).
♥ You can find Cleava on Facebook -  
HERE
.
♥ You can find Cleava on Twitter -
HERE
.
♥  I receive no monetary compensation for this review.  I was provided a Cleava to try and give my honest opinion.