Clean, renewable, sustainable energy, winning locally
As the Sierra Club points out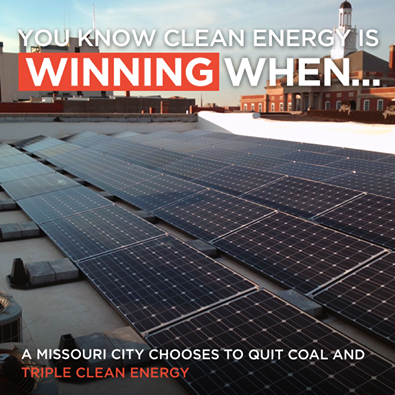 http://sc.org/independenceMO" title="Clean, renewable, sustainable energy, winning locally" /> http://sc.org/independenceMO" class="_46-i img" />
Known for being the hometown of President 
Harry S. Truman
, the city of Independence is now leading the shift to cleaner energy in Missouri - eliminating coal power by 2016 and tripling its clean energy goals.

As Independence, Missouri's own Examiner newspaper covered the story:
With a resolution Monday, City Council threw its support behind a future of increased renewable electric energy in Independence.
The resolution, introduced by Council Member Scott Roberson, identifies the Council's goals regarding renewable energy and provides direction to the city manager for policies and programs related to that.
"This gives a whole new direction to energy in Independence," Roberson said during the end-of-meeting comments. "Leon Daggett at Power & Light, the city manager, all of us have working really well together on this.
"I think this will bring all sorts of new possibilities."
The resolution states the Council's goal to have 10 percent of IPL's energy supplied by sources that are not carbon-based (coal and natural gas) by the year 2018, which would conform to a state standard for investor-based utilities; as well as to increase that goal to 15 percent by 2021.
It also notes the city's recent conversion of its streetlamps to LED lights, as well as future plans to remodel an office building for IPL's administrative offices.
The resolution directs City Manager Robert Heacock to:
• Assure the new IPL offices are designed to minimize energy use and incorporate renewable energy.
• Develop a feasibility study for options such as solar, wind and geothermal energy at city-owned facilities.
• Develop a study to evaluate incentives and sustainable programs regarding renewable energy that can be provided to customers.
• Provide a status report by November on those projects.
• Do a rate study for residential, commercial and industrial customers, including provisions for renewable energy programs, and report back to the Council by May 2015.
Other directions include shutting down the coal-fired Missouri City Power Plant and phasing out coal at the Blue Valley Power Plant by January 2016 – both plans that have been in the works – and producing a report by next July outlining options and costs for disposing the Missouri City plant.
It's enough to give a person hope.